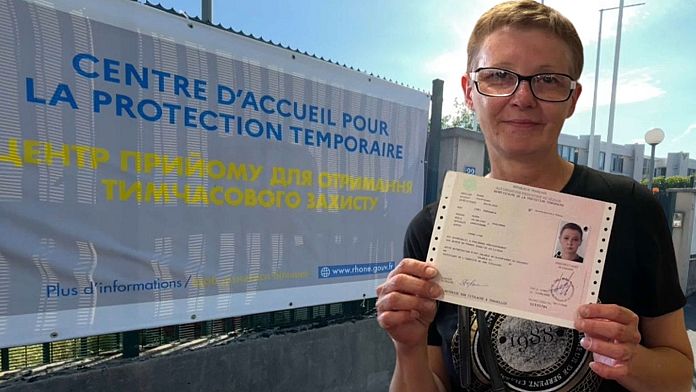 A unique place to facilitate administrative procedures for refugees from Ukraine. The site is located in Villeurbanne, near Lyon, in a former cardboard company.
This center was opened on March 28. In the first weeks, it welcomed several hundred people every day. Today, the flow has dried up a bit. But the device is still working fine.
Here, newcomers first obtain a temporary residence permit (APS), issued by the prefecture.
"Knowing that they have a place dedicated to them reassures them a lot, explains Julien Perroudon, Deputy Secretary General of the Rhône prefecture_.__If they go through this door, they will come out with a decision which will be:
– either your file is too complicated, or there are problems and we will contact you at the prefecture
_– either, there is no problem and you can unroll everything behind."
From Dnipro to Villeurbanne
Olena Dorosheva arrived a few days ago from Dnipro in eastern Ukraine. She does not hide her emotion at receiving her residence permit.
"It's the end of my suffering, at least for a while, she wants to believe__.__My anxieties will stop._I will finally feel safe."
She says that she first stayed in a refugee center, on a temporary basis. "_I was very well received. The French gave me help. There were translators to help me understand. _I was offered food, I received all kinds of support."
"I wish I could stay here, she confides. And there, even if my residence permit is only valid for 6 months, it's already good! _I am very grateful to those who help us."
A sesame
The provisional residence permit is valid for 6 months, renewable up to 3 years. It is a sesame that opens many rights, in terms of health, housing, education for children.
It also allows its holder to be able to work and receive the allowance for asylum seekers (ADA).
For most, it is synonymous with the start of a new life.
Olena Versanne is one of the translators employed at the Reception Centre. "_With each family that comes, she comments, people try to explain their situation to me, it is sometimes very difficult.__There are really terrible situations, especially people who come from bombarded and devastated regions._So I try to do as many things as possible to reassure them, to tell them that everything is going to be fine, that they are welcome here in France."
"Things are going very well", emphasizes Sami Boubakeur, territorial director of the French Office for Immigration and Integration (OFII). His organization is one of the key players in the Reception Center. "Each department has learned to work in harmony with the others, he insists. There is homogeneity and fluidity!"
"France shows here what it has best"
In addition to the civil procedures made possible in this center, medical care is also provided for those who need it.
Several doctors and nurses are thus mobilized to provide consultations.
One of the initiators of this medical component is Doctor Jacques Caton. He quickly understood the interest of such a multi-service platform.
"I am amazed by this organization, he says. _Frankly, I find that France is showing its best there._We have a complete, total support, in a minimum time!"
This reception center is almost a victim of its own success.
Some refugees from other countries regret that such reception conditions are reserved only for Ukrainians.