News
Pro-Saakashvili protest in Georgia, jailed former president goes on hunger strike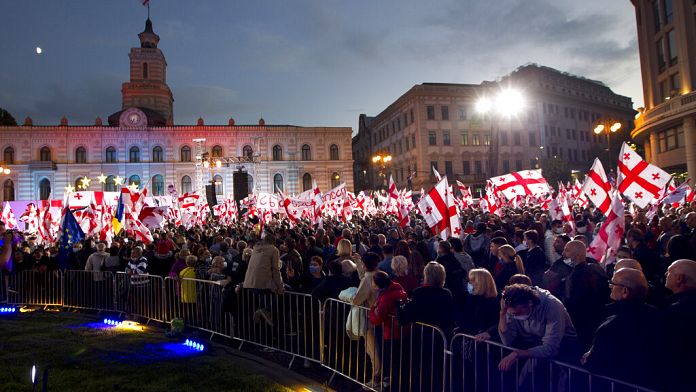 In Georgia, at least 50,000 people demonstrated in the center of the capital Tbilisi on Thursday to demand the release of former President Mikheil Saakashvili. He is in prison and has just started a hunger strike.
Georgian president between 2004 and 2013, Mikheil Saakashvili, 53, was arrested on 1 October after returning from an eight-year exile to serve a six-year prison sentence for "abuse of power" (handed down in absentia in 2018).
This Caucasian country, which has had a turbulent history since its independence in 1991 after the collapse of the Soviet Union, is plunged into a deep political crisis.
By Wednesday, more than 70,000 people had signed an online petition demanding Saakashvili's release. Slogans in this sense have also been inscribed on many buildings and sidewalks across the country.
The imprisonment of the former president is part of the political crisis that has shaken Georgia since the last legislative elections, which were narrowly won in October 2020 by the ruling Georgian Dream party, founded by billionaire Bidzina Ivanishvili, Saakashvili's great rival.
Mikheil Saakashvili, a charismatic figure both adored and criticized, had secretly returned to Georgia two weeks ago, on the eve of crucial municipal elections for power.
The election was ultimately won by the ruling party with 46.7% of the vote, against Saakashvili's United National Movement (UNM) with 30.6%. However, the various opposition parties together gathered 53% of the vote and denounced massive fraud.
In the main cities, including Tbilisi, second rounds will be held on October 30 between candidates from the power and the UNM.
In a sign of the concern over Saakashvili's arrest, the United States last week called on Tbilisi to ensure that the opponent "receives fair treatment in accordance with Georgian law and Georgia's international human rights commitments".
Saakashvili was stripped of his Georgian citizenship and has held a Ukrainian passport since 2016. Before returning to his homeland, he lived for several years in Ukraine, where he was entrusted with official duties. Last week, Ukrainian President Volodymyr Zelensky demanded that Mikheil Saakashvili be allowed to return to Ukraine.
But the Georgian government has so far shown its firmness in this regard.
Source link