[ad_1]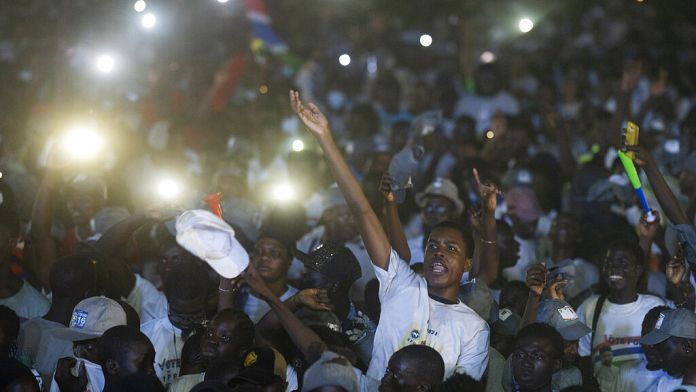 Outgoing President Adama Barrow has been declared the winner of the presidential election in The Gambia.
But his opponents dispute these results.
Adama Barrow received more than 53% of the vote, far ahead of his main competitor Ousainou Darboe, who obtained 27.7% of the vote, according to the results released by the electoral commission.
But his opponents have said they are contesting the results even before the final proclamation.
"For the moment, we reject the results so far announced."by the commission, Ousainou Darboe told the press, alongside two other of his competitors.
"All the means of action are on the table", he added, calling"all Gambians to remain calm and peaceful"time for investigations to be carried out.
Mr Barrow's camp began celebrating the event on the streets of the capital Banjul even before his victory was officially confirmed.
The election, which took place on Saturday, was played over a single round.
Yahya Jammeh and the Covid-19
About one of the two million Gambians were called upon to choose from among six candidates, all men, the one who will lead for five years the smallest country in mainland Africa, which is also one of the poorest in the world. Almost 860,000 took part in the vote.
Five years after the end of the dictatorship, the consolidation of democracy was one of the challenges of this election. The fate of former dictator Yahya Jammeh and the economic crisis are others.
The Community of West African States (ECOWAS), a major player in the post-electoral crisis of 2015 and the forced departure of dictator Jammeh, urged in a statement "all the candidates to accept in good faith the outcome of this election which will have neither winner nor loser, but only one winner, the Gambian people".
Five years ago, Mr Barrow, a former real estate developer now 56 years old and then virtually unknown, defied the odds and beat the dictator Jammeh after more than twenty years of rule characterized by a multitude of atrocities committed by the State and its agents: assassinations, enforced disappearances, rapes, torture, etc.
Almost half of the population lives below the poverty line. The Gambia has been hit hard by the Covid-19. Apart from agriculture, this country, with its beaches on the Atlantic, lived on tourism, whose flows have dried up.
Gambians suffer from unemployment, rising prices for rice, sugar or oil, and lack of access to healthcare.
[ad_2]

Source link