[ad_1]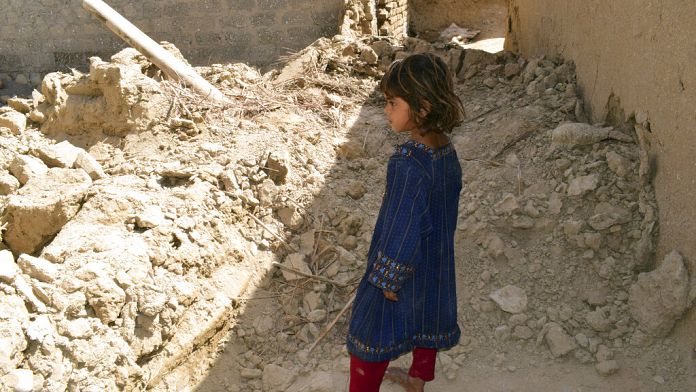 At least 20 people were killed and dozens injured in an earthquake that struck a remote region of southwestern Pakistan early Thursday morning.
Most of the victims were killed in the collapse of their homes, often built of mud bricks, especially in the mountainous district ofHarnai, the most affected.
Since the earthquake occurred very early, many victims were trapped in their sleep.
"I tried to take my children out (house), but the shaking was so strong"Rafiullah, a farmer from Harnai who fainted in shock, told AFP. "When I regained consciousness, I pulled out two of my sons" rubble, he added. But he could not save his youngest son, barely one year old, on whom a beam had fallen and who was "already dead".
The Interior Minister of Balochistan province, Mir Zia ullah Langau, told AFP that he had received information "according to which 20 people were killed because of the earthquake". He also reported about a hundred wounded.
Among the dead were a woman and six children, said Suhail Anwar Hashmi, the top provincial government official in Harnai district, according to who "more than 200 people were injured".
Army helicopters reached the quake zone to help rescuers and evacuate the injured. The earthquake caused landslides blocked roads, hindering rescue operations.
Another local official, Naseer Nasar, head of the Balochistan provincial disaster management aUthority, warned that the toll could rise.
Hospital in the dark
The earthquake, with a magnitude of 5.9 and a depth of 9 km, occurred at 03:01 local time on Thursday, according to figures revised by the US seismological institute USGS.
"While we were running for our lives, people fell", took over the teacher. "Our homes have been damaged and lives have been lost."
Children with defiled faces and bandaged heads sat prostrate on stretchers. Residents were desperately searching the debris of their collapsed homes.
Rahamatullah, 27, a resident of the village of Gharibabad, did not lose any family members. But all were so frightened after the fact at the sight of cracks in the walls of their house that "no one dared to go back in", he told AFP.
The region ofHarnai is difficult to access due to the lack of paved roads. Electrical and telephone networks are also poorly developed.
The quake caused a power outage in the area, and staff at Harnai's already poorly equipped public hospital were forced to work in the dark, facility official Zahoor Tarin told AFP.
Before sunrise, "we operated without electricity, using torches and portable spotlights"he said.
"Immediate help"
"Most of the injured arrived with fractured limbs. Several dozen people were sent home after receiving first aid", added this official.
The most seriously injured were transported to Quetta, the provincial capital a hundred kilometres from the epicentre, he said.
Hashmi told AFP that a rescue team had been sent to verify information that "15 miners are trapped in a mine near the city (from Harnai)".
The Prime Minister of Pakistan, Imran Khan, ordered that a "immediate help" the whole region concerned.
Pakistan regularly records earthquakes
The earthquake was felt in Quetta and throughout Baluchistan, a province bordering Afghanistan and Iran.
Pakistan, located at the meeting point of the Indian and Eurasian tectonic plates, regularly records earthquakes.
In October 2015, a 7.5 magnitude earthquake killed 400 people in Pakistan and Afghanistan.
Ten years earlier, on 8 October 2005, a magnitude 7.6 earthquake had killed more than 73,000 people and made 3.5 million homeless, mainly in the Pakistani-controlled Kashmir area.
[ad_2]

Source link