[ad_1]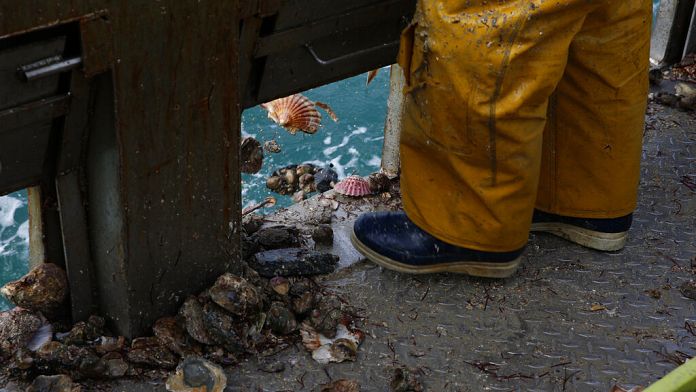 Guernsey on Wednesday granted 40 fishing licenses to French boats, which will thus be able to continue fishing in its waters after February 1, 2022, announced the government of the Channel Island.

This announcement comes in the midst of a standoff between Paris and London over post-Brexit fishing licenses, the French government accusing the British of granting too few.
By adding three other ships that will replace ships that have left the French fleet, Guernsey will grant 43 licenses for 58 applications. They will be able to fish in the 6-12 nautical mile zone off the Channel Island, as was the case before Brexit.
For the remaining 15 boats, "any additional data will be examined," the government of Guernsey said in a statement.
"As the deadline set by the European Commission approaches (which has asked the United Kingdom to settle the license dispute by December 10), obtaining these 43 licenses is excellent news for our fishermen, "French Minister of the Sea Annick Girardin told AFP.
"We, the European Commission and France, have made good progress in a few weeks with Guernsey. The efforts are paying off and the work continues to give maximum visibility to professionals. The fight is not over: 111 licenses still to be obtained", mainly from Jersey and London, she said.
The issue of fishing licenses is less problematic with Guernsey, which Paris considers a "reliable partner" in the negotiations, than it is with London and Jersey.
"Important step"
Guernsey's Foreign Minister Jonathan Le Tocq hailed a "milestone" in his licensing roadmap, hoping it will bring "certainty and stability".
European fishermen can continue to work in UK waters provided they can prove that they fished there previously. But the French and the British argue over the nature and extent of the supporting documents to be provided.
Since January 1, 2021, France has obtained around a thousand fishing licenses in British waters and the Channel Islands, but Paris is still asking for around a hundred. French fishermen have undertaken actions in this regard to put pressure on London, such as the blocking of certain ports and the Channel Tunnel on Friday, November 26.
The European Commission recently asked London to settle the post-Brexit dispute over fishing licenses with France by December 10.
France wants to see the situation of some thirty ships, considered as "high priority", to be resolved as a matter of urgency, since they carry out a large part of their catches in these British waters to which they no longer have access.
After Brexit, the UK is looking to forge new trade deals that are beneficial for its industries with countries around the world like Norway, with which a trade deal takes effect on Wednesday.
This agreement provides for a reduction in customs duties on several products including certain fish and seafood, but at the risk of increased competition for British fishermen.
[ad_2]

Source link