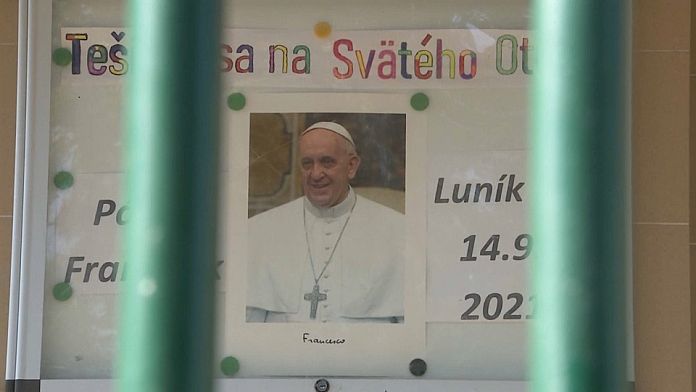 During his visit to Slovakia from 12 to 15 September, Pope Francis will meet members of the Roma population, one of the most marginalized communities in Europe.
This meeting, in the Lunik IX district of Kosice, Slovakia's second city, will be one of the highlights of his trip. The district is the largest of the approximately 600 underprivileged ghettos where many Roma live in Slovakia. Most of these areas lack basic services such as running water, sewage systems, gas or electricity. Poverty, unemployment and crime rates are also very high. "Everyone is afraid of being eaten by wolves in Lunik IX, but there are no wolves here, only people", jokes Anna Turtakova, a resident of the neighborhood.
Local officials prepare a warm welcome for the Pope. "It is a great honor for us", moves Marcel Sana, mayor of Lunik IX. "If Pope Francis comes to this community, it is to greet the Roma. He is known to visit marginalized communities and we respect him all the more for that. "
For local priest Peter Zatkulak, the visit is an opportunity to restore the often tense relations between the Roma and the rest of the Slovak population. "Through prayer, we would like to seek reconciliation between Slovaks and Roma, as well as with the Church, because we have harmed each other and this must stop", he explains. "It's time to say sorry and start all over again".
Racism and discrimination
Roma have long suffered from racism and discrimination in Slovakia and elsewhere in Central and Eastern Europe, and they continue to face enormous barriers to employment and access to education. The inhabitants of Lunik IX hope that the Pope's visit will lead to changes.
"I heard that he tends to visit the poorest, which could be the reason why he decided to come, because it is the poorest neighborhood in Slovakia"Says Monika Gulasova, 19, who is part of a choir that will sing for Francis at a church service.
Francis will arrive in Slovakia on Sunday after a brief stopover in Hungary. In addition to his visit to the Roma in Kosice, he will visit the Slovak capital, Bratislava, and the city of Presov.
The pope will also meet Slovakia's Jewish community and hear testimony from a Holocaust survivor before concluding his trip with a mass on Wednesday in Sastin, the site of an annual pilgrimage to venerate Slovakia's patron saint, Our Lady of Sorrows.