Soccer
Pochettino snatches an important deal for Paris!
Mauricio Pochettino is succeeding his bet at PSG with his galactic squad. The Argentine coach would have thus struck a big blow on a file considered sensitive.
Donnarumma and Navas "OK" with Pochettino
With two top 5 goalkeepers in the world, Mauricio Pochettino refuses to establish a hierarchy between Gianluigi Donnarumma and Keylor Navas. Contrary to some observers, the coach of the Paris Saint-Germain does not want to decide on the position of goalkeeper number 1. And this Thursday, the journalist Bruno Salomon, at the microphone of France Bleu Paris, ensures that the message regarding the rotation between the two goalkeepers is now clear internally and both players have given their consent to the coach.
As he recently announced in a press conference, for "the Navas – Donnarumma competition", Pochettino goes " decide match after match. The reality is that having two great goalkeepers raises the competition and therefore raises the level. It is only beneficial for us".
PSG transfer window: Donnarumma silences the Italian press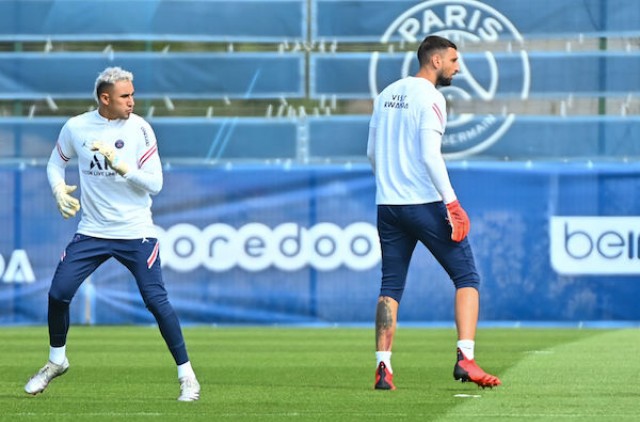 Still not forgiving him his choice to leave AC Milan for PSG during the summer transfer window, the Italian press has recently multiplied rumours of Gianluigi Donnarumma's ill-being in Mauricio Pochettino's squad. Relying on Keylor Navas' starts, the media did not hesitate to announce that the number 1 goalkeeper of Squadra Azzurra does not rule out a change of tune during the next recruitment window of the winter.
Donnarumma took the opportunity of his first appearance in the Champions League and the victory of Paris SG against Manchester City (2-0), Tuesday night at the Parc des Princes, to answer his critics. Starting in the Parisian cages and impressive (rated 8/10), the 22-year-old goalkeeper openly claimed to be proud of having made the choice of PSG where he is happy.
"How do I live the criticism about my choice to come here? I just want to laugh. I'm happy at PSG, and I laugh when I read all this nonsense about me. I am certain of my qualities and strengths, I have never doubted. There is no problem, I am here and I am happy to be here (…) It is amazing to play with all these champions", swung Donnarumma at the microphone of Sky Sports Italia. As a reminder, he is linked to Paris SG until June 2026.
The memorable routes of French clubs in Europe