[ad_1]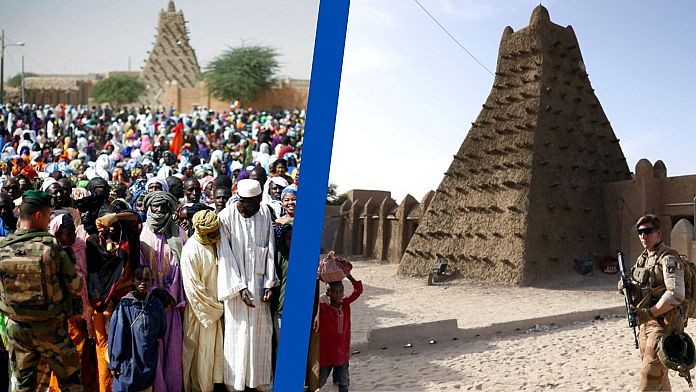 The French army is withdrawing from the city of Timbuktu (northern Mali) after eight years of presence. The military base will be returned to the Malian army. 2013-2021: back in pictures on a triumphant arrival and a departure without fanfare.
The departure of the French army from Timbuktu, after Kidal and Tessalit, marks a strong symbolic turning point: it is in this city, holy city of Islam listed as a UNESCO world heritage site, that President François Hollande has formalized the start of French intervention.
It was the February 2, 2013, a few days after the dropping of legionaries on the city placed for eight months under the yoke of jihadist groups. Mr. Hollande, disembarked from Paris, and his Malian counterpart at the time, Dioncounda Traoré, were all smiles: the Malian and French armies had liberated the city.
"Oh! It was joy, it was beautiful", remembers Mohamed Ibrahim. President of the regional council, he had offered a camel to Mr. Holland. The animal remained in Mali. The legend says that it was eaten.
At the time, "this camp did not exist, we stayed in the small villas in front of the terminal"from the airport," describes French sergeant Mathieu.
The soldier with twenty years of service is back with the unit responsible for returning the base to the Malians. "The circle is complete", he smiles.
At the time, "the population was cheering us on when we arrived", he recalls.
Today, "it's not the same, even if the atmosphere is not hostile either".
The triumphal liberation of Timbuktu followed several months of tracking jihadists in the mountains. The following year, the operation Serval transferred to Barkhane, with a mandate extended to neighboring countries.
Almost nine years later, jihadist groups have extended their influence in the Sahelian bushes while Paris, which faces growing hostility in the region, announced the reduction of its engagement in the Sahel (from 5,100 men to 3,000 in the region). horizon 2022).
So when AFP asks Master Corporal Julien, also present in Timbuktu in 2013, if the mission has been accomplished, he sketches a dubious pout. "We have to hope that it gets better for the civilians", he is satisfied to answer.
[ad_2]

Source link