The supporter accused of striking Dimitri Payet during the violent incidents that occurred during the match between OGC Nice and OM appeared this Wednesday in court. He faces imprisonment.
Nice-OM incidents: Payet's attacker soon imprisoned ?
Black T-shirt and shorts, then a kick launched in the direction of Dimitri Payet, this supporter of OGC Nice made the headlines the day after the overflow occurred during the match against OM. It is "prosecuted for unlawful intrusion on the playground disturbing the sporting event, and voluntary violence in meetings ", recently indicated the deputy Public Prosecutor, Jean-Philippe Navarre.
And according to the information of RMC Sport, the man of 28 years was heard this Wednesday in the criminal court of Nice. The sports radio explains that the prosecutor claimed five years of stadium ban and one year in prison including 6 months suspended against the Gym supporter. The correctional court will deliver its final verdict on September 30, after analysis of the file.
The accused's mea-culpa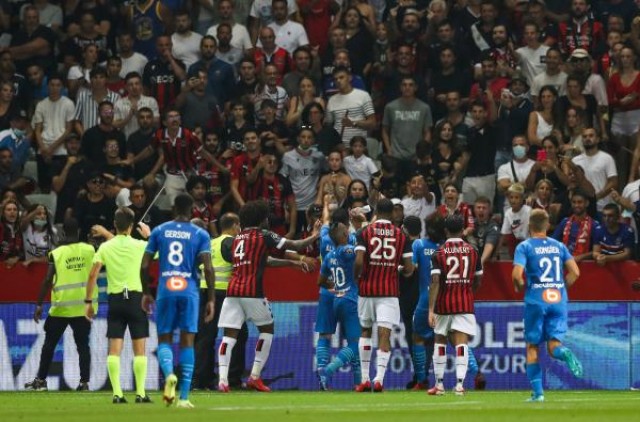 Continuing, the source explains that the Gym supporter admitted to being "returned to the field. I kicked, then a Nice player pushed me away and I came back to the grandstand, he said. I thought I had touched Gerson, but after the fact when I saw the images, I apparently touched Dimitri Payet ", added the suspect, who wanted to apologize. He bitterly regrets his gesture. "I realized in the grandstand, when I went back, that I did anything. (…) I would like to apologize to the children, families who were at the stadium or in front of the TV. This gesture has nothing to do on a football field.»
Recall that the match between OGC Nice and OM had degenerated in the 75th minute, after fans invaded the pitch to fight with some Olympians, including Dimitri Payet. The OM playmaker, hit by projectiles, had decided to react with anger by throwing the bottle into the Nice public. It was then the last straw that caused the vase of overflows to overflow.