News
Parliamentary elections in Russia: final day of voting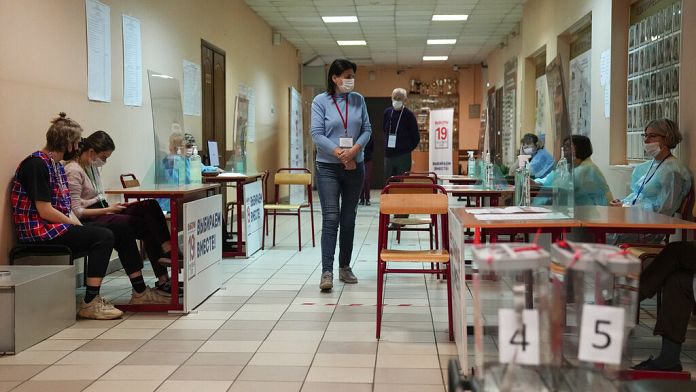 Russians were heading to the polls Sunday for the final day of the legislative elections, a vote expected to be won by the ruling United Russia party – despite its unpopularity – after months of repression that severely weakened critics of President Vladimir Putin.
The vote, held over three days, from Friday to Sunday, aims to renew the 450 mandates of deputies of the Duma, the lower house of Parliament currently dominated by United Russia. Local and regional elections are also taking place.
Some 108 million Russians are called to the polls until 20: 00 local on Sunday, with the first estimates expected in the late evening. At 07: 00 GMT Sunday, turnout in the legislative elections reached 35.69% according to the Electoral Commission.
According to a list by the specialized NGO Golos, more than 3,500 possible irregularities have been reported since the start of voting, including ballot stuffing and pressure to vote.
Kirill Sergeyenko, a 43-year-old voter, told AFP that he came to vote specially on Sunday in St. Petersburg, hoping that there were "fewer possibilities of fraud" on the last day of the election.
"Your voice matters"
With almost no anti-Putin candidates allowed to run in the legislative elections, supporters of opposition leader Alexei Navalny had devised a so-called "smart vote" strategy designed to support the candidate — often a communist — best placed to hinder the incumbent.
The opponent, detained in a penal colony a hundred kilometers from the Russian capital, once again urged his supporters to vote according to his instructions.
"Today your voice really matters," he wrote in a post on social media on Sunday. "Vote and persuade others to do so. Don't be lazy, please."
In the past, this tactic had met with some success, especially in Moscow, and this time the authorities have moved to block all access to these instructions, putting pressure on the internet giants.
Google and Apple agreed Friday to remove from their store the mobile application of Alexei Navalny's "smart vote". His supporters acknowledged a" huge victory "by the Kremlin and accused the two US firms of"giving in to blackmail".
With most of the opposition banned from the election, United Russia should nevertheless prevail, due to lack of real competition and despite a popularity rating of less than 30%, according to the state polling center VTsIOM.
The other parties represented in the Duma — communists, nationalists and centrists — are on the whole in line with President Putin, who remains popular.
Source link