Soccer
Paris receives incredible news, fans are jubilant !
A few hours from the shock of Manchester City in the Champions League, PSG received sensational news, which should rejoice the Red and Blue fans.
PSG Mercato : "Finish my career in Paris ? I'd like it"
It's the big day for Paris ! After his perfect start to the season in Ligue 1, the men of Mauricio Pochettino receive at the Parc des Princes a formidable Manchester City team, for a final before the hour. Paris will have to shed its old demons against its bête noire in the Champions League (1 draw and 3 defeats under the QSI era), to take a considerable option in Group A. On this occasion, Mauricio Pochettino should field an impressive team, marked by the return of Lionel Messi and Marco Verratti. While waiting for this opposition as tense as tantalizing, Paris Saint-Germain received a moving news this morning, which has enough to give the managers and supporters of the club a smile.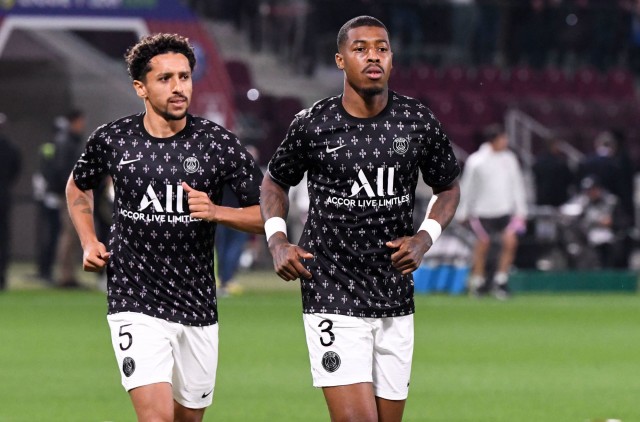 Guest on airEurope 1 this Tuesday, the captain of PSG, Marquinhos, spoke about tonight's shock encounter, and subsequently spoke about his future in the French capital. During this interview, the 27-year-old defender, a true darling of the Park, confessed to having thought of finishing his career at Paris SG, as he felt good there. Arrived in the greatest discretion in 2013, the Brazilian has, in recent years, imposed himself as the boss of the Parisian defense, showing himself decisive in important meetings.
Known for his consistency and versatility, Marquinhos has been wearing the captain's armband for more than a year, a role he takes very seriously. "This is a privilege, a huge honor for me. When you start playing football, you don't think about being captain of a great team. I want to win as many titles as possible with PSG. This is how I will try to engrave my name a little more in the history of the club", said the player, this morning. The native of São Paulo would like to enroll in the long term with Paris SG, and would even consider finishing his career there. "I'd like it, I don't think about changing my tune. I want to bring Paris Saint-Germain to the highest level."Great news for Paris, which had hit a big blow last year by extending its captain until 2024.
Video: The legendary clashes of French football