News
Paralympic Games: Ukrainian athletes demonstrate for peace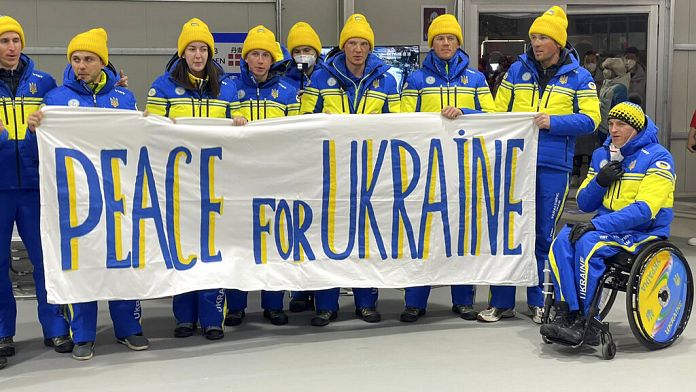 Boycott threats, tensions between athletes, exclusion at the last moment of Russian and Belarusian athletes, the Paralympic Winter Games in Beijing began this Friday in a climate tense by the war in Ukraine.
Despite the invasion of their country, Ukrainian athletes have decided to maintain their participation in the Winter Olympics. For them it is a way to use sport as a vector of peace.
Before the opening ceremony of the Paralympic Games in Beijing, Ukrainian athletes gathered to demonstrate against the war. On the banners held by the sportsmen, one could read "Stop the War" and "Peace for Ukraine".
"Our presence at the Paralympics is not insignificant. It is a symbol that Ukraine was, is and will remain a country", said Valeriy Sushkevych, chairman of the Ukrainian Paralympic Committee, whose representatives had to cross Europe by bus in order to fly to China.
During the parade of nations this Friday, the Ukrainian delegation was warmly applauded by the spectators present in the National Stadium in Beijing.
On Wednesday, the International Paralympic Committee (IPC) had authorized the participation of Russia and Belarus, but on Thursday the committee reversed its decision and decided to exclude the athletes from these countries.
"A shame" for Moscow
If the Paralympic committees of many countries approved the reversal of the IPC, Moscow denounced "a monstrous situation" and "a shame", promising to take sports justice.
In China, host country of the Games, Internet users were divided."Why weren't American athletes excluded when the United States invaded Iraq and Afghanistan?", asks a user of the social network Weibo. Conversely, "those who start a war during the Olympic truce must be severely punished", wrote another.
In total, the event brings together 564 athletes from around forty countries, who will compete this Saturday in six sports (biathlon, wheelchair curling, sledge hockey, alpine skiing, cross-country skiing and snowboarding).