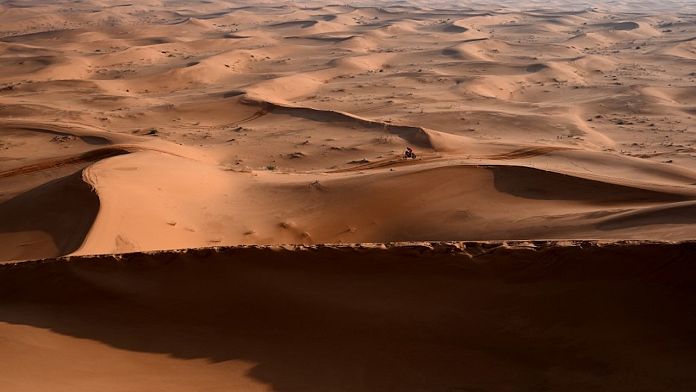 A terrorist investigation was opened Tuesday in Paris after the explosion that hit a Dakar-2022 vehicle in Saudi Arabia and injured a Frenchman.
The preliminary investigation, led by the national anti-terrorism prosecution, is open for "attempted assassinations in connection with a terrorist enterprise".
The investigations into this explosion on December 30 in Jeddah (central west), which "seriously injured the driver of the car", are entrusted to the Directorate of Internal Security (DGSI), said the Pnat in a statement.
Severely injured in the leg, the injured Philippe Boutron, 61, was repatriated after undergoing surgery in Saudi Arabia. He is now being treated at the Percy de Clamart military hospital, according to a press release Tuesday from the Sodicars team to which he belongs. He was placed in an artificial coma to relieve his pain, we say.
Accident according to Ryiad
Saudi authorities on Saturday ruled out a criminal act to explain what they called an "accident".
For its part, the French Ministry of Foreign Affairs called on its nationals to "maximum vigilance", adding on the contrary that "the hypothesis of a criminal act" was not "not discarded" and recalling that "the terrorist threat persisted in Saudi Arabia". The organization of the race had explained that a "malicious act" was not excluded.
"It's an attack, it's clear. It's not an accident. The bomb was placed under the spar of the 4X4. It was a big 4X4, it dampened the explosion a little, the chassis was very thick, it slowed down the momentum of the bomb. Philippe was the only one injured ", told France Télévisions Marie-France Estenave of the Sodicars team.
Also president of Union Sportive Orléans Football, a third division club, Philippe Boutron was driving the vehicle when the explosion occurred near the hotel where its occupants had just spent the night. The crew were heading towards the stadium where checks were taking place on the cars scheduled to take part in the rally-raid, which began two days later.
"Very difficult times"
The pilot Thierry Richard, 57, who was in the vehicle, spoke of "war scenes", "very difficult" moments. According to the Bordeaux resident, six people were on board, including him in the passenger seat.
Asked by AFP, the Saudi authorities refused to comment, as did the director of Sodicars, Richard Gonzalez.
According to the Sodicars website, the team "more united than ever", "supports those close to them" and expresses its haste "to find his pilot-friend in order to share moments of pleasure and passion together".
"Mayeul Barbet, his navigator has also returned" at his home "where he is rebuilding himself morally after having lived a most painful week of his life", is it still specified.