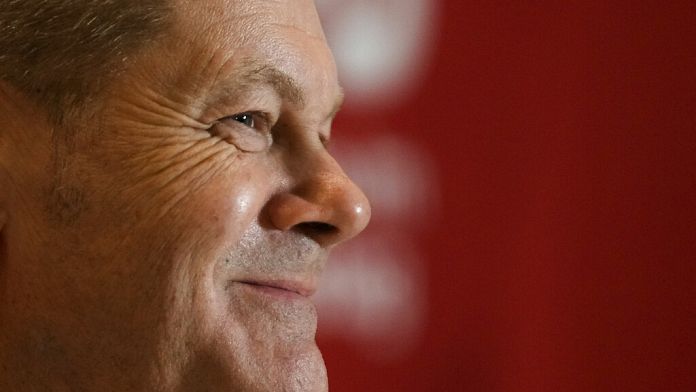 Olaf Scholz was officially elected on Wednesday as German Chancellor. At 63, the Social Democrat succeeds Angela Merkel.
**But who is Olaf Scholz really? Response elements.**
It is anecdotal, but there is hardly any photo, no video illustrating the youth of Olaf Scholz. It must be said that nothing pre-arranged this salesman's son to take center stage.
Born in 1958 in Osnabrück (Land of Lower Saxony), Olaf is the eldest of three boys. His grandfather was a railway worker, his parents worked in the textile industry.
Olaf grew up in Hamburg, in a modest neighborhood.
The young man studied law, and at the same time, joined the youth branch of the SPD. An activism rather on the left wing of the party, then led by Willy Brandt and Helmut Schmidt.
His social fiber led him to specialize in labor law.
And he rose through the ranks within the Social Democratic Party, first at the level of the city of Hamburg, then at the federal level.
It takes advantage of the aspiration created by Gerhard Schroeder, 12 years his senior.
Schroeder, figure of the SPD, is chancellor. And in 2002 Olaf Scholz became general secretary of the Social Democratic Party.
In 2007, he became Minister of Labor, following a right-left coalition agreement.
Even if he does not have the same political ideas as the head of government, the conservative Angela Merkel, Olaf Scholz will find in her, a source of inspiration.
It maintains a local anchoring in Hamburg, city ​​he managed between 2011 and 2018.
He was criticized for handling the 2017 G20 summit, which led to violent riots and accusations of police violence.
In 218, he returned to the Merkel government by being appointed to the powerful Ministry of Finance.
He is putting financial austerity on hold to deal with the Covid-19 crisis.
The scandal Wirecard, named after a company suspected of accounting fraud, tarnishes its balance sheet at the Ministry of Finance. But that does not prevent him from being chosen to lead the SPD during the legislative elections.
The success of this election opens the doors of the chancellery to him, succeeding Angela Merkel.