Soccer
Official, an Ivorian striker signed
Pending the opening of the winter transfer window, the Stade de Reims strengthens internally. The Ligue 1 club has promoted a promising young player from its reserves.
Stade de Reims: 3 years of contract for N'Dri Philippe Koffi
Like the clubs in difficulty at the start of the season, the Stade de Reims should strengthen during the winter transfer window. Before the opening of the transfer market in January 2022, the Rémois confirmed the contract of a talented striker of its squad. It is about N'Dri Philippe Koffi to whom the Marne club offered a first professional contract until June 2024. "He is one of the symbols of the attractive youth of the Stade de Reims at the start of the season. Swift striker, of formidable efficiency, N'dri Koffi has initialled his first professional contract with the Red and White for the next 3 seasons ", said the club chaired by Jean-Pierre Caillot.
Arrived from Stade Lavallois CSD in the summer of 2019, the young Ivorian proved himself with the reserves (group Pro 2) for two seasons, before being launched in Ligue 1 on September 12, 2021, during the 5th matchday of the championship against Stade Rennais. Coming on at the hour mark in place of Hugo Ekitike, he had scored his first goal for the pros in the Red and White jersey after only 8 minutes on the pitch.
Scorer in his first match in Ligue 1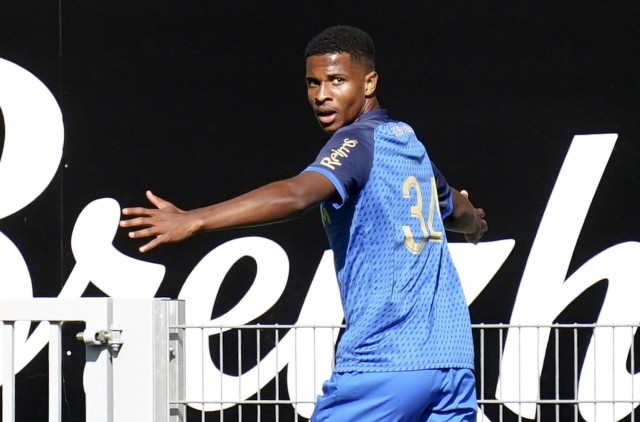 N'Dri Philippe Koffi had been congratulated by Oscar Garcia at the end of his first with the professional team of Rémoise. "He trained with the professional group during the fifteen days of truce (from late August to early September, editor's note). We saw that he could help us and he made a very good entrance", had indicated the coach of the Stade de Reims. "Coach Garcia places great trust in young people. It pushes us to sublimate ourselves every day in training", had emphasized the 19-year-old player in return. N'Dri Philippe Koffi made 4 league appearances this season. Better, he was a starter during the Rémois victory over FC Nantes (3-1), on the 8th matchday of L1.