News
Odessa, Russia's new objective?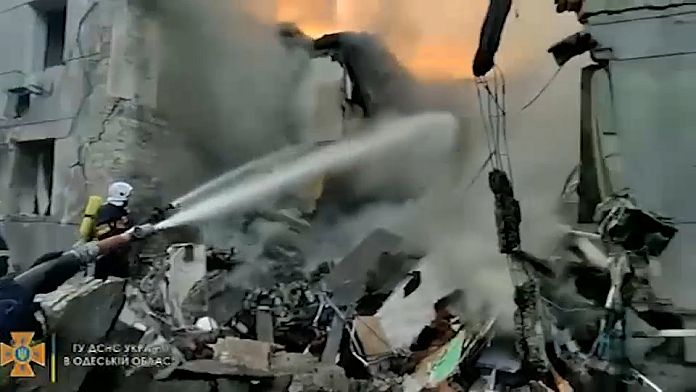 In Odessa, "a missile strike" "damaged a building in which there were five people", announced in the early evening the city council of Odessa Telegram. "A fifteen-year-old boy died, another minor child was taken to hospital"he added.
Ukrainian President Volodymyr Zelensky denounced this attack on a "dormitory": "How did these children and the dormitory threaten the Russian state? This is how they fight".
An Orthodox church dependent on the Moscow patriarchate had its roof torn off in the attack, for his part indicated the secretary of the Ukrainian Security Council, Oleksiï Danilov.
Odessa, a Russian-speaking city considered a major cultural center for both Ukrainians and Russians, has been attacked several times in recent weeks.
Odessa, a new Russian objective?
The airport was targeted by Russian missiles on Saturday, destroying its runway according to Ukrainian authorities. On April 23, strikes that hit a building in particular killed at least eight people, including a three-month-old baby, his mother and his grandmother.
Ukrainians fear that the city will be one of Russia's next targets.
Further east, in Luhansk, the fighting continues. Local authorities released a video showing a school burning after being bombed in the Donbass town.
For Washington, Luhansk and Donetsk could soon be attached to Russia.
"According to the most recent reports, we believe that Russia will attempt to annex the so-called People's Republics of Donetsk and Luhansk. Reports indicate that Russia plans to hold referendums on joining Russia in mid -may.", explained Michael Carpenter, US Ambassador to the Organization for Security and Cooperation in Europe.
In the region of the Ukrainian capital, the inhabitants are rebuilding. Areas north of kyiv were shelled and occupied by Russian troops just a month ago. Since their departure, the inhabitants have always worked to restore basic services.
This Monday, the Danish Foreign Minister traveled to kyiv for the reopening of the Copenhagen embassy in the Ukrainian capital. Sweden should do the same on Wednesday and Washington "by the end of the month".