News
"Novax" Djokovic case: the Serbian president steps up in favor of the tennis player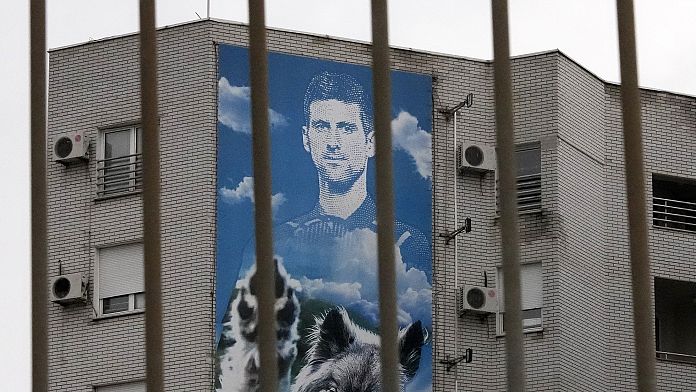 Novak Djokovic spends second night in Australia in Melbourne detention center after visa cancellation : the best tennis player in the world should be fixed on his fate on Monday, while waiting in Serbia, the president denounces a "political hunt".
Serbian President Aleksandar Vucic vehemently sided with Novak Djokovic on Thursday, accusing Australia of "mistreating" the champion.
"Our Prime Minister Ana Bernabić is currently in contact with an official of the Australian Department of Home Affairs to ask for only one thing: to allow Novak Djokovic to leave this infamous hotel and to join the house he rented before Monday. that is to say before the final decision of the Australian court falls. He must be able to go to this house quickly in order to prepare in the best conditions for the tournament. And he will be under surveillance 24 hours a day ", Aleksandar Vucic told reporters.
"Djokovic is neither a criminal, nor a terrorist, nor an illegal migrant"
The Serbian Foreign Ministry said in a statement released late Thursday afternoon that it had expressed an "oral protest" to the Australian ambassador in Belgrade because of the "inappropriate treatment" to which Djokovic was exposed.
"Novak Djokovic is neither a criminal, nor a terrorist, nor an illegal migrant, but he has been treated in this way by the Australian authorities which provokes the indignation of his supporters and the citizens of Serbia", specifies the press release.
Ten days before the kick-off of the Australian Open (January 17-30), of which he is the three-time defending champion, Djokovic was to spend a second night this Thursday evening in a cramped room at the Park Hotel in Melbourne, used by the Australian government to detain people in an irregular situation.
The "Djoker", who remained silent on his vaccination status in relation to the Covid-19, was taken there after the cancellation of his visa by Australian customs officials who refused him entry into Australia for lack of documents necessary to obtain a medical exemption from compulsory vaccination.
Maggots and mold
The world No. 1 is awaiting the outcome of his legal battle to stay on Australian territory in this hotel which has a bad reputation. A fire broke out there in December, forcing his evacuation. Selected people complained on social networks, with photos to support them, of finding maggots and mold in food and in October, 21 people contracted Covid-19 there.
Hearing scheduled for Monday
During a first hearing Thursday before a Melbourne judge, a government lawyer said the deportation would not come until another hearing scheduled for Monday.
Already present in Australia, Spaniard Rafael Nadal, who contracted Covid-19 last month despite two doses of the vaccine, has expressed little sympathy for his Serbian rival.
"If you're vaccinated you can play the Australian Open and anywhere, and in my opinion the world has suffered enough to break the rules," Nadal said.
Already winner of twenty Grand Slams, like Roger Federer and Rafael Nadal, Novak Djokovic was aiming for a record 21st title at the Australian Open, a tournament he has won nine times.
"Novax" Djokovic
For months, the one who is now nicknamed "Novax" Djokovic has been casting doubt on his participation because of the obligation to be vaccinated against Covid-19 to enter Australia.
Djokovic spoke in April 2020 against compulsory vaccination. "Personally, I'm not for vaccines. I wouldn't want someone forcing me to get vaccinated for travel.", he said.
He finally announced Tuesday that he had obtained a medical exemption allowing him to make the trip to Australia. The country's regulations provide for this type of exemption in rare cases.