News
Nobel Peace Prize: journalists Maria Ressa and Dmitri Muratov honored in Oslo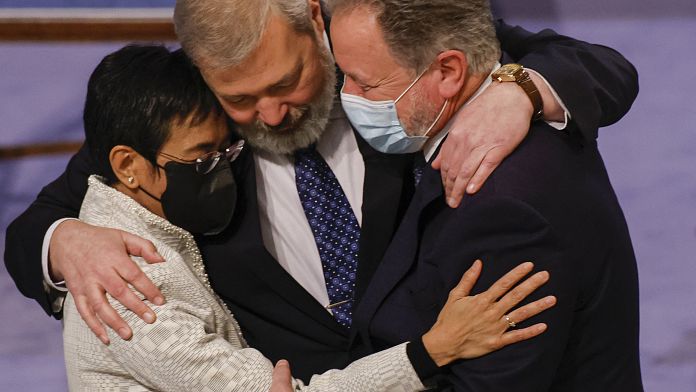 Two press freedom fighters received their Nobel Peace Prize in Oslo. Filipino journalist Maria Ressa is co-founder of the Rappler news site and Russian Dmitry Muratov is editor-in-chief of the independent newspaper Novaya Gazeta. Both are threatened in their country. They were nevertheless able to make the trip to Norway to receive a diploma, a gold medal and a check for more than 980,000 euros, this Friday, December 10.
Faced with a reduced audience, Covid obliges, the 58-year-old Filipino journalist attacked "American internet companies"like Facebook, Twitter and YouTube, without naming them explicitly.
The "toxic sludge" of the Internet giants
"With his almost divine power", she said, their technology"allowed the virus of lies to infect each of us, pitting us against each other, bringing out our fears, anger and hatred, and paving the way for the rise of authoritarian rulers and dictators".
"Our greatest need today is to transform this hate and violence, the toxic sludge that runs through our information ecosystem, favored by American internet companies that make more money as they spread this hate. and trigger what is worst in us"she said.
Minute of silence for killed journalists
Its 60-year-old co-laureate, Mr Muratov, observed a moment of silence for reporters killed in the exercise of their profession.
"I want journalists to die old," he proclaimed. Known for his investigations into corruption and human rights abuses in Chechnya, Novaya Gazeta has seen six of his collaborators killed since the 1990s, including the famous journalist Anna Politkovskaya, murdered in 2006.
"Journalism in Russia is going through a dark period", underlined the editor, referring to the hundreds of journalists, media, human rights defenders and NGOs classified as" foreign agents "by the Russian Ministry of Justice.
Last year's winner also attended the ceremony, which was unable to take place in 2020. He is the Executive Director of the World Food Program, David Beasly. The UN agency was distinguished for its efforts to fight against hunger in the world and against the use of hunger as a weapon of war.
Source link