Soccer
News on the Sardar Azmoun file
Courted by OL during the last summer transfer window, Sardar Azmun finally remained at the Zenit Saint Petersburg. The file of the 26-year-old striker is not closed. Juninho would always be on the spot.
OL is still closely monitoring Sardar Azmoun
OL tried to recruit Sardar Azmoun during the last summer transfer window. Contacts between the Rhone club and its Russian counterpart did not lead to an agreement, and the forward-center remained at Zenith. Indeed, the Russian club rejected the proposal of theOlympique Lyonnais and other contenders of his N°7. "I received offers from Tottenham, Lyon, Bayer Leverkusen and Roma, and Zenit refused them", had confirmed Sardar Azmoun in the British tabloid The Sun, after the summer market closed.
However, Juninho is still closely monitoring the scorer and would even be in contact with him, as his contract ends in June 2022 and he can give his consent to the club of his choice as soon as the winter transfer window in January 2022. By the way Sardar Azmun had announced the color on his departure from St. Petersburg. "If I leave, I will do it next summer as a free player", had he let go.
Competition for Olympique Lyonnais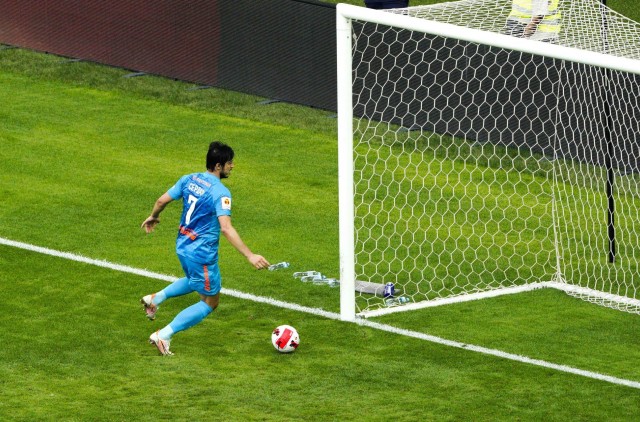 As he said, the Zenit goalscorer is highly courted in Europe thanks to his performances in the Russian championship. Last season, he scored 19 goals and provided 6 assists in 24 games played in the Premier Liga (Russian elite championship). This season he has already scored 5 goals in 9 appearances. Juninho must therefore play elbows in the face of strong competition on the Azmoun file.
It must be said that the Zenith St. Petersburg blocked the Iranian international (56 caps for 37 goals scored), in order to play in the Champions League with him. Recall that the Russian champion club is in Group H of the C1 with Chelsea, Juventus and Malmö. Sardar Azmoun has not yet scored a single goal in the competition, but his team has 3 points like Chelsea, after 2 days.
TOP 5 mythical matches of the French Team