News
New Zealand: clashes and arrests during the evacuation of the anti-vaccine camp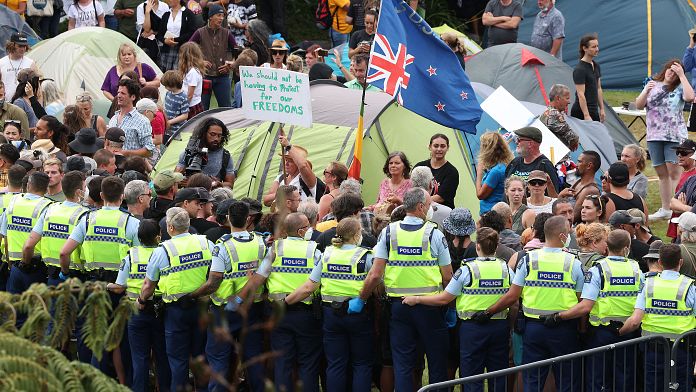 Clashes erupted Thursday near the New Zealand Parliament in Wellington between police and anti-vaccine protesters against Covid-19, gathered for three days and including more than 120 were arrested.
The security forces intervened to disperse this gathering and in particular to dismantle the impromptu camp set up near Parliament, while activists sang Maori haka, shouting "Hold the Positions" in the face of advancing police.
The latter received punches and kicks while being insulted by slogans such as "It's not democracy", "shame on you" or "Give Up the Obligation".
The authorities closed the precincts of Parliamentwhich happens very rarely, to prevent the demonstrators from receiving reinforcements.
Police advanced into the parliament building but retreated behind barricades in the late afternoon as protesters cheered and cried victory.
Evacuation could take days according to Wellington Police Commander Corrie Parnell, who accuses some activists of using children as human shields to keep the police away.
"It is regrettable that despite the square being officially closed to the public earlier today, a number of protesters are refusing repeated urgings to leave the compound"did he declare.
This rally, which began on Tuesday, echoed the "Freedom Convoy" initiated at the end of January by Canadian truckers denouncing the obligation to vaccinate to cross the border with the United States. Leaving from Vancouver, they have been blockading the capital Ottawa for a week and have inspired similar mobilizations in other countries.
A hard core of protesters
In New Zealand, hundreds of motorhomes and trucks blocked Wellington's Parliament district on Tuesday. Most are gone after 24 hours but one hard core stayed, determined to stay there "as long as necessary".
Deputy Prime Minister Grant Robertson said residents' patience with the disruption caused by the protest was exhausted and the police had to intervene.
"The streets of the city are blocked, shops and businesses have had to close, people feel threatened and intimidated by some protesters"he said on Radio New Zealand ahead of the police action, for which reinforcements of a hundred agents had been dispatched.
Residents of the capital complained of being attacked because they wore a protective mask and several businesses near the Parliament were forced to close because their employees asked to check the health passes.
Compulsory vaccination
Wellington Town Hall has warned that its agents will start ticketing vehicles blocking the streets as part of the anti-sanitary measures mobilization.
A woman who refused to give her name accused the police of having provoked the crowd. "It was a peaceful protest, what they did is a shame".
"I never imagined seeing this in New Zealand"she added.
New Zealand has made vaccination against Covid-19 compulsory for people working in the health, policing, education and defense sectors. Those who refuse risk dismissal. A proof of vaccination is needed in restaurants, sporting events and religious services.
According to Prime Minister Jacinda Ardern, "96% of New Zealanders have been vaccinated".