News
New York: Amazon sees the birth of its first union in the United States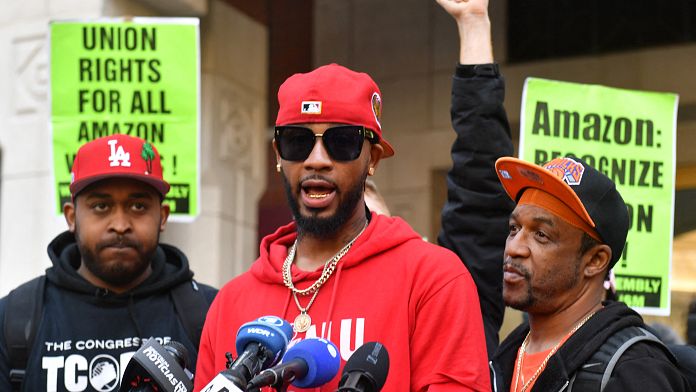 It's a win for workers at an Amazon warehouse in Staten Island. While the group of Jeff Bezos had succeeded so far in repelling the desires of employees wishing to regroup, they succeeded in cform a union, Friday, April 1. According to a count broadcast online, 2,654 employees ticked "yes" to be represented by the independent organization Amazon Labor Union (ALU), created almost a year ago, against 2,131 who voted "no".
At the announcement of the results, applause resounded within the small crowd gathered for the occasion at the bottom of the building in the Brooklyn district where the counting was organized. "People spoke today, they want a union", welcomed the president of the union Christian Smalls while uncorking a bottle of champagne. A little later, in front of the press, he thanked the boss of Amazon, Jeff Bezos, ironically for having gone into space, "because while he was up there, we were able to set up a union".
Two more battles
On the other side of the street from the JFK8 warehouse, some 1,500 employees of the sorting center called LDJ5 are called upon to vote for or against the creation of another branch of the ALU, from April 25 to 29.
Further south in the country, in Bessemer, Alabama, the national distribution union, RWDSU, which employees wanted to join, seemed set for a possible second contested defeat.
Thursday evening, the "no" led with 993 ballots, against 875 "yes", but there remained 416 so-called "disputed" ballots, which will decide the result. A hearing must decide in the coming weeks what will be done with these bulletins.
The unions have won several symbolic victories in the United States in recent months, starting with the explicit support of US President Joe Biden.