News
New bombings in Kyiv, Biden in Europe, Zelensky's call to demonstrate. Follow our live.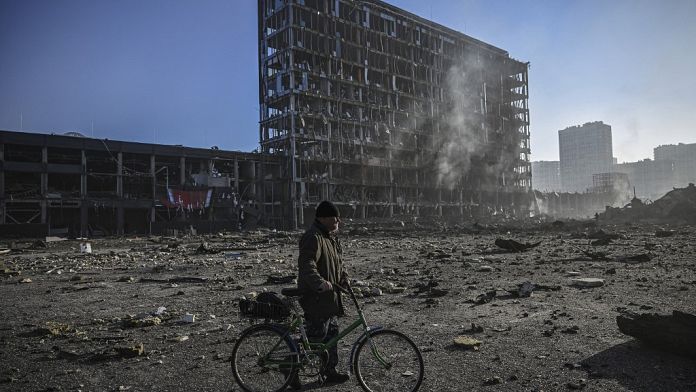 Update at 7 a.m.
Washington and Brussels denounce "war crimes"
The US government "has established that members of the Russian forces committed war crimes in Ukraine," US Secretary of State Antony Blinken said on Wednesday.
"These war crimes must stop immediately."said European Council President Charles Michel on Wednesday evening. "We see Russia increasingly attacking the civilian population, targeting hospitals, schools and shelters"he said in a statement.
Expulsion of diplomats
Russia has decided to expel American diplomats in retaliation for the expulsion by Washington of twelve members of the Russian diplomatic mission to the UN, Russian diplomacy said in a statement on Wednesday.
The United States expelled in early March, in the midst of an open crisis with Russia over Ukraine, twelve members of the Russian diplomatic mission to the UN, accused of "espionage".
Strikes on Kyiv
In Kyiv, a new strike on the parking lot of a shopping center left one dead and two injured, according to Mayor Vitali Klitschko.
Earlier in the day, four people were injured in bombings on buildings.
Kyiv remains an objective of the Russian army, but it is blocked northwest and east of the Ukrainian capital.
The Russian military has retreated more than 30 km east of Kyiv in the past 24 hours and has begun to establish defensive positions on several fronts in Ukraine, a senior Pentagon official said Wednesday.
Biden in Europe
US President Joe Biden arrived in Europe on Wednesday to cement unity among Westerners whose options for retaliation against Russia are shrinking as the war in Ukraine continues.
"What we'd like to hear (from America's allies) is that this shared toughness that we've seen over the past month will last as long as it takes."said his national security adviser Jake Sullivan, during an exchange with the press on board Air Force One, en route to Brussels.
Zelensky calls for demonstrations around the world
Ukrainian President Volodymyr Zelensky on Wednesday evening called on citizens around the world to take to the streets to protest against Russia's invasion of his country.
"Go ahead with Ukrainian symbols to defend Ukraine, to defend freedom, to defend life!"he launched in a video message in English. "Meet in the squares, in the street, show yourself and make yourself heard!"
Russian journalist killed in kyiv
A Russian journalist was killed Wednesday in a bombardment on kyiv, announced in the evening the independent online media for which she worked, The Insider.
Oksana Baulina was killed by a rocket while she was filming the damage caused by a previous strike on a shopping center in the Podil district, in the northwest of the Ukrainian capital, according to a press release from her newspaper.
Renault suspends operations at its Moscow plant
French automaker Renault announced on Wednesday evening to immediately suspend "activities at the Renault Moscow plant" and assess "possible options regarding its stake" in its Russian subsidiary AvtoVAZ, as pressure mounts on its significant presence in Russia.
This plant produces Duster, Kaptur, Arkana and Nissan Terrano SUVs. But the majority of the group's presence in Russia is through its subsidiary AvtoVAZ, which helped it sell nearly 500,000 vehicles in Russia in 2021, making the country its second largest market behind Europe.
Earlier in the day, the head of Ukrainian diplomacy Dmytro Kouleba had called for a global "boycott" of Renault because of "his refusal to leave Russia".
Ukrainian President Volodymyr Zelensky had already urged French companies established in Russia to stop supporting the Russian "war machine" and to leave this country, citing Renault, Auchan and Leroy Merlin, during a speech before the French Parliament.
Sanctions and reactions
The UN General Assembly of 193 states is expected to adopt a new resolution on Thursday that will "demand" from Russia an "immediate" end to the war in Ukraine.
The United States will announce on Thursday "a set of sanctions which concern both political figures" and "oligarchs," National Security Advisor Jake Sullivan said.
The International Labor Organization has decided to "temporarily suspend" its cooperation with Russia.
The Swiss food giant Nestlé has announced that it will further reduce the range of its products sold in Russia but maintain the supply of baby products and medicalized foods.
The French pharmaceutical laboratory Sanofi announced on Wednesday "to stop any new expenditure which would not be directly linked" to the supply of its "essential drugs and vaccines in Russia and Belarus".