News
Neighboring the war in Ukraine, Moldova holds its breath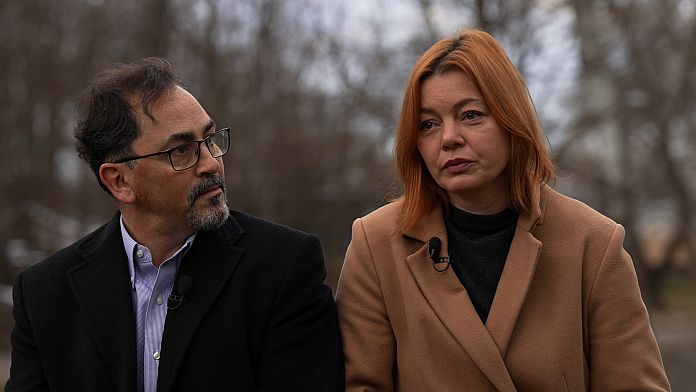 Militarily neutral, but eager to join the European Union, Moldova, one of the poorest countries in Europe, is seen as Ukraine's most fragile neighbour. Among its population, concern is growing about a possible spillover of the conflict led by Russia just on the other side of its border, as our journalist Julián López Gómez tells us.
I was sent there to try to find answers on the unique situation of Moldova, a country on the border with Ukraine and among the poorest in Europe. For three days, I travel through its territory and meet dozens of pro-Western and pro-Russian, Moldovan and Russian-speaking people, ministers and small business owners. Very quickly, I have the impression of finding myself in a country that holds its breath.
"It's not our fight"
My first date is with the Maxemchuk family on a Sunday walk in a park in Chișinău. Immediately, I feel the anguish experienced by this couple and their four children. After having lived there for 19 years, they tell me that they have packed their bags in case they have to flee the country.
"Most people here understand that we could very easily be next, our geopolitical situation is very similar to that of Ukraine," says John, the father. "We are a very small country, the city of Kyiv has, I believe, a larger population than Moldova as a whole," he added, somewhat reassured. His companion Aliona, by his side, cannot hold back her tears. "We don't want our children to see this, to face bombings and shootings," she explains, sobs in her voice. "We don't want to leave our fathers and our brothers here to fight, it's not our fight, it's our home," she points out.
"This war has had the effect of bringing us together"
This family embodies the fear and anxiety that the neighboring war is causing in Moldova. With a population of only 2.6 million, this former Soviet republic is the poorest country in Europe. Since its independence from the Soviet Union in 1991, pro-Russian and pro-Western factions strongly polarized local politics.
After vehemently condemning the Russian invasion, the pro-western government officially requested joining the European Union. My next interview is with the Moldovan Foreign Minister. Nicu Popescu indicates that his country is aware of its own vulnerability.
"Most of Ukraine's southern neighbors are part of the European Union and NATO, enjoy external security guarantees and have a much higher level of resilience and better functioning economies," he points out before adding: "Moldova is experiencing a separatist conflict on its own soil, so in that sense Moldova is a fragile state in a very difficult region. With this war, our first priority has been to maintain the unity of our society and I can say that to a large extent this war has had the effect of bringing us together," he observes.
Historically Eurosceptic and Russophile, the parliamentary opposition has so far contributed to this unity. The Socialist Party of Moldova (PSRM) has repeatedly called for peace negotiations between Russia and Ukraine. He also proposed specific laws to strengthen the neutrality of Moldova which is enshrined in the Constitution.
A PSRM deputy, Adrian Lebedinschi, gives me his point of view: "I think as long as we remain neutral, we are safe. Other countries like Switzerland, Austria, Liechtenstein and many others have announced their desire to be neutral and this has allowed them to avoid any military conflict so far," he says.
The problematic case of Transnistria
But Moldova is already home to a latent military conflict. I go to the artificial border with Transnistria. After a deadly war in the early 1990s, this pro-Russian region declared independence, but no UN member country recognized it.
About 1,400 Russian soldiers are deployed there. Russia even established a consulate there. In response to Moldova's efforts to become a member of the EU, the region renewed its demand for international recognition.
We tried to bring our cameras there, but we weren't allowed. Instead, I contacted by telephone a Russian computer engineer who lives in Tiraspol, the capital of the region.
"The atmosphere is not that bad, but people don't know who to support, they don't understand who is right, who is wrong," explains my contact who prefers to remain anonymous. "In Transnistria," he continues, "There are many Russian pensioners and they receive money from Russia, so this is the most problematic group of people, they are stressed."
The man tells me that since the start of the war, he has lost half his salary. I ask him if people around him are worried about the future. "They worry about their careers, their daily lives," he replies. "But when you have a war that is so close to our borders, the concern grows," he notes before transmitting a message: "People in Europe must understand that Transnistria is not aggressive, it is not on any side and never will be, it will always be for peace."
"A fight between brothers" also in Gagauzia
Transnistria is not the only territory where attempts are being made to defuse latent tensions. In the southeast, there is another sensitive region: Gagauzia is an autonomous territory close to the border with Ukraine which has political, social and cultural ties with Russia. In a local referendum eight years ago, an overwhelming majority of voters opted for even closer ties with the Russian Federation over EU integration.
But these days, local authorities prefer to adopt a cautious political posture. At least that's what I perceive when talking with Gheorghii Leiciu, vice-president of the National People's Assembly of Gagauzia, in front of which sits a huge statue of Lenin.
"It's like a fight between brothers, you can't see the situation in a binary way," he assures. "Even if some people urge us to take sides, we cannot; we only hope that the situation will end in peace," he insists.
Multiple challenges including the reception of Ukrainian refugees
Although politically peaceful, Moldova is facing strong social and economic tensions. The neighboring war has further weakened an economy already affected by the pandemic and the energy crisis. Almost totally dependent on Russia for its energy, the country suffers from high inflation, stagnation and disrupted supply chains.
Additional challenge for the country: Moldova's population has increased by almost 4%. Hundreds of thousands of Ukrainians have taken refuge on its soil. As part of my report, I go to the largest dedicated reception center at the national level. The site served as a hospital during the peak of the Covid-19 pandemic. The day I visit it, it hosts 600 Ukrainian mothers and children.
The Maxemchuck family is part of the huge efforts of Moldovans to help refugees. The couple works on various projects for them. Despite the worry about the fate of his country, he decided to stay… At least, for now. Aliona remains hopeful: "No matter how things turn out, I think it's the strength and the generosity of the people that are going to triumph. It has to be," she finally hammers.