Basketball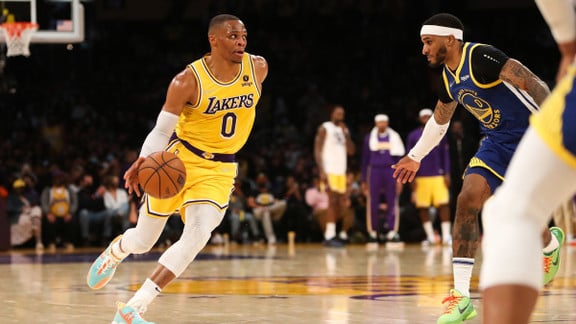 Beaten by the Golden State Warriors (111-99), Russell Westbrook admitted not having the answer to the failure of the Big 3 debut of the Los Angeles Lakers.
On the night of Tuesday to Wednesday, fans of Los Angeles Lakers were able to admire their new Big 3 during one of the shocks of this preseason between the Golden State Warriors of Lakers (111-99). James James, Anthony Davis and Russell Westbrook shared the floor and still failed to win the meeting by continuing their black series in this preseason. King james spoke on the matter by passing on the following message. "It's going to take a little while for us to be the team we know we can become. It's all going to lie in our work, in our confidence in this process, and we have to understand that there will be lots of frustrating moments. We will approach the goal several times and then take steps back ". New arrival in the city of Angels, Westbrook he also confided in the matter.
"There are going to be ups and downs throughout the season"
"Honestly, I don't have the answer to that. I know this is the question everyone is asking, but no one has the answer. We're just going to keep playing, like any team, and we're going to find. It doesn't have to be for the first game of the season. We have only one goal in mind, and that is to win a title. There are going to be ups and downs throughout the season, adversity. But as long as we stay on the same page, that's all that matters ". confessed Russell Westbrook in the wake of the setback conceded by the The bone Angeles Lakers and in comments reported by Let's talk basketball.