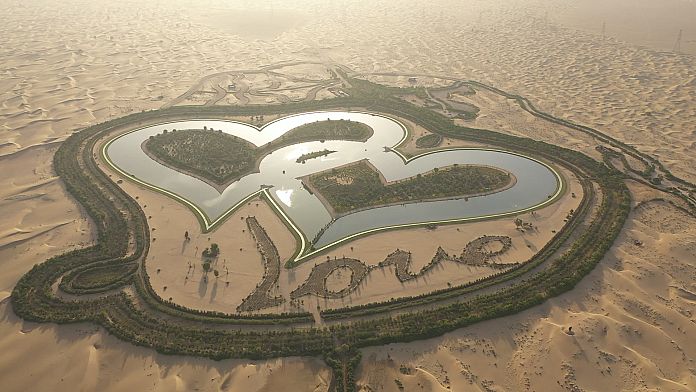 Al Qudra east oasis on the outskirts of Dubai that borders the "al Marmoom Desert Nature reserve. At the turn of the sand dunes, we discover an amazing scenery punctuated by a multitude of artificial lakes, the best known being the Love Lakes. These lakes in the form of two intertwined heartsattracted fans of original selfies. They extend over 550,000 square meters so that you can only see them in their entirety from the air.
Nature reserve
This unique framework is part of an ecotourism approach. In addition to the flora and fauna of the desert, it is home to mammals, fish and more than 175 species of birds.
Saud Faisal Mohamed is in charge of wildlife at Dubai Municipality. "The importance of protecting endangered species is widely recognized worldwide," does he point out before explaining : "In Dubai and especially in the Al Marmoom desert, we have more than 19 endangered species."
Symbolic lakes
Another artificial wonder: the Expo 2020 lake near Al Maktoum Airport, which celebrates the organization of the first world expo in the Middle East, Africa and South Asia region.
Finally, the smallest of the three lakes is called Moon Lake. As its name suggests, this crescent moon lake invites you to contemplate the sunset not far from the Arabian oryx that inhabit this desert.