News
Natalia Gavrilița: "Moldova wants to join the EU, but not NATO"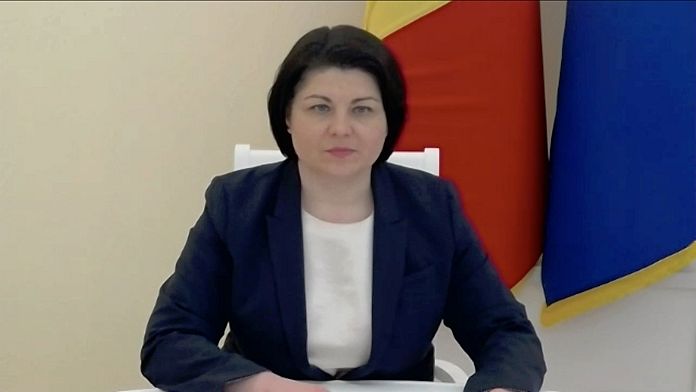 Due to the invasion of Ukraine by neighboring Russia, Moldova finds itself at the forefront of the Ukrainian refugee crisis. A week after the start of the fighting, this country, which has a separatist region where Russian troops are stationed, has submitted its application to join the European Union. We discussed these issues with the Prime Minister of Moldova, Natalia Gavrilița.
Sandor Zsiros, euronews:
"How do you see the situation of your country in terms of security with the war in Ukraine ? Is Moldova under a direct military threat from Russia?
Natalia Gavrilița, Prime Minister of Moldova:
"What is happening in Ukraine is truly unfortunate. We condemn the war and strongly support the independence and territorial integrity of Ukraine within its internationally recognized borders. We live in a complex region where questions There are security issues for Moldova as well, particularly regarding Transnistria, a separatist region. But at the moment, we see no danger or risk of the conflict spilling over into this region of Transnistria. We are continuing our action in our current negotiating formats. Moldova is a neutral country. Its neutrality is enshrined in its Constitution and we expect everyone to act in accordance with this principle."
"More than 250,000 people crossed our border from Ukraine"
Sandor Zsiros:
"What do you plan to do if Russian troops cross your borders?"
Natalia Gavrilita:
"This is a hypothetical scenario. We are currently focused on managing the large influx of refugees into our country. Over 250,000 people have crossed our border from Ukraine. An estimated 120,000 of them are still in Moldova, which represents the largest proportion in Europe compared to our population. We have reached our maximum capacity and we need significant support and international assistance to cope with this massive humanitarian crisis. We are therefore focusing on the challenges we are facing right now rather than discussing a hypothetical scenario."
"We urgently call for the opening of humanitarian corridors to other countries"
Sandor Zsiros:
"How do you deal with this massive influx of refugees since your country is relatively small? Do you need more international help in this regard?
Natalia Gavrilita:
"Yes, it is clear. As I said, we are facing an influx of refugees never seen in Moldova, but also probably never seen in Europe since it is sudden and intense and the number of refugees is greater than the estimates made by the United Nations High Commissioner for Refugees before the start of this military intervention. Moldova is obviously a country with very limited resources. It is clear that we need financial aid and humanitarian assistance to be able to cope with this influx of refugees. And as long as military operations continue, we expect this influx to continue. So we urgently call for the opening of humanitarian corridors to other countries, but also financial assistance so that we can maintain the expenses that we are currently incurring and that we have been incurring for the past ten days. We are just beginning to receive humanitarian aid. These expenses are t very heavy for Moldovan resources."
Breakaway region of Transnistria: "We see no risk or response plan"
Sandor Zsiros:
"Your country has a separatist region, Transnistria where a Russian military base is located. Do you see any unusual military activity there? And do you think these soldiers can join the conflict?
Natalia Gavrilita:
"Indeed, we have a separatist region, Transnistria. There are Russian troops stationed there. We have been constantly calling for their withdrawal for thirty years. We currently see that there is no risk or plan to intervention. But obviously the situation is uncertain and depends on the evolution of the conflict in Ukraine. As I said, we are a neutral country and we expect all international partners to act in accordance with this principle of neutrality At this time, we are continuing our discussions in our current negotiation formats and we do not note any signs or plans for intervention."
"Grant candidate status [à l'adhésion à l'UE] would send the message that we are welcome in the free world"
Sandor Zsiros:
"Moldova has officially deposited his candidacy to join the European Union last week. Usually, the joining process takes decades. In your opinion, is an accelerated procedure possible in the current context?
Natalia Gavrilita:
"We are aware that the process of European integration is a long process of transformation. At the same time, due to the security situation in this region, grant us candidate status would send a very important message to the citizens of the countries which have applied to join the European Union, namely that they are welcome in the free world and in the European Union where democratic values, the rule of law and respect for human rights and international law are fundamental principles. Obviously, we are ready to do what will be necessary to fulfill the criteria for membership of the European Union."
A union with Romania? "It's not an option"
Sandor Zsiros:
"Romanian political parties believe that a referendum should be organized so that Moldova can unite with Romania and thus join the European Union and NATO. Is this scenario on the table?"
Natalia Gavrilita:
"Right now, that's not an option we're looking at."
"This principle of neutrality is enshrined in our constitution"
Sandor Zsiros:
"How could the western integration of Moldova be achieved since it has a pro-Russian breakaway region? Vladimir Putin who is trying to restore the former Soviet Union will certainly try to prevent it. How do you see things ?"
Natalia Gavrilita:
"Again, I think this is a hypothetical question. We are currently working within the negotiation formats that have been agreed upon and we will work with all international partners as developments and circumstances change to approach the negotiations. in the best way and continue discussions on European integration."
Sandor Zsiros:
"You spoke a little earlier about the neutrality of your country. That means that NATO membership is excluded, doesn't it?
Natalia Gavrilita:
"Indeed. This principle of neutrality is enshrined in our Constitution. We aspire to join the European Union, but we will not seek to become members of NATO."