[ad_1]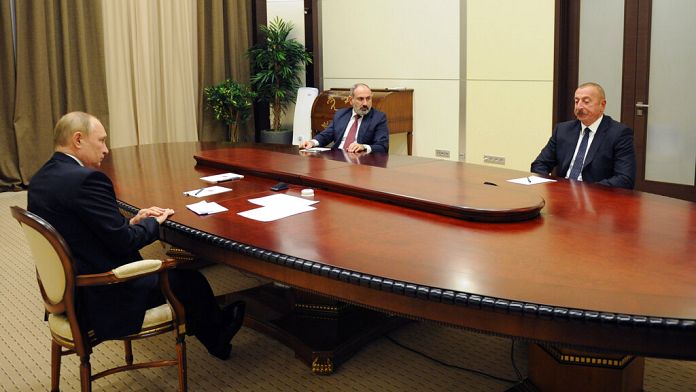 Armenian Prime Minister Nikol Pashinian and Azerbaijani President Ilham Aliev agreed on Friday, during a rare meeting in Russia, to ease their tensions and resolve their differences after the war between them in 2020.
After talks under the aegis of Russian President Vladimir Putin in Sochi, the two leaders notably agreed to work on the demarcation of their common border and restore their road links.
"We have agreed on a number of issues which I believe are essential", said Vladimir Poutine during a joint press conference, welcoming the "constructive" talks. "The first of these is the creation by the end of the year of mechanisms for the demarcation and delimitation of the border between the two States ", did he declare.
Several episodes of violence have erupted on the border between the two countries since the establishment of a ceasefire in November 2020, which ended a six-week war that killed 6,500.
The deadliest of these episodes took place less than two weeks ago and resulted in the deaths of six Armenian soldiers and seven Azerbaijani soldiers. Yerevan also accuses its neighbor incursions into its territory.
According to the Russian president, the Armenian and Azerbaijani leaders also agreed to "unblock the transport corridors" between the two countries, both for railways and roads.
He said representatives of the three countries would meet again next week in Moscow to finalize the decision.
[ad_2]

Source link