News
"My/My…is in Ukraine", a street art installation in Crimea against the war in Ukraine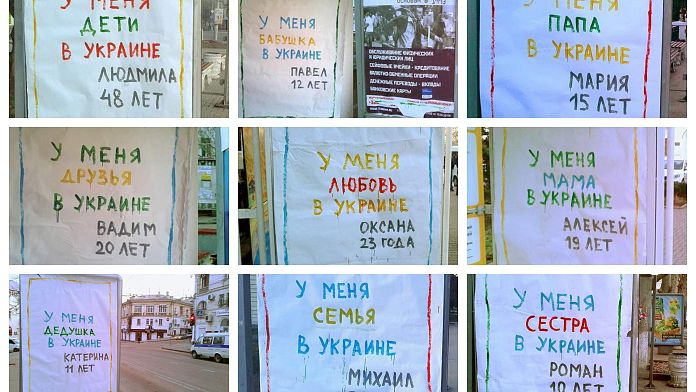 "My mother is in Ukraine. Alexey, 19 years old", "My lover is in Ukraine. Oksana, 23 years old", "My sister is in Ukraine. Roman, 10 years oldThese messages appeared on posters in the streets of a Crimean town after the Russian invasion of Ukraine.
These posters, handwritten in paint and as if stained with tears – as if the inhabitants of the peninsula themselves had put their feelings on paper – only remained hanging on bus stops for a few hours before being torn down. But the photos of this artistic and militant installation have since gone viral on social networks.
The author, an artist from Crimea, works under the pseudonym of Antik Danov. He explains that the idea for these posters came to him from his desire to "protest against the current war".
"This series is important for me and everyone around me; it is essentially family nesting", he wrote to Euronews.
"We are all connected by our families, relatives and friends. But today we are all included in the war, where people on both sides are suffering and dying – our families, our loved ones, our friends. It's awful. I consider it necessary for everyone to pull themselves together, take to the streets and squares to demonstrate to bring this war to an urgent end.", added the artist.
In total, Antik Danov created ten posters, which he had to stick up after dark. According to him, the same evening, only the poster evoking a sister remained intact.
"All names are taken from my imagination. These are artistic images, but I'm sure there are many real life coincidences", did he declare.
Antik prefers not to reveal his real name or the city where he works, for fear of his safety. "It's not the first time that I implement my ideas on the street, and I'm ready to bear all the consequences (…), but I'm not ready to fall into their clutches just like that, I try to stay alert", explained the artist.
"I don't consider myself a criminal. Creation is my language; with him I express what I understand from what I absorb from my environment, then I give back what I have digested through my projects", he adds, I do it because I can't afford not to. I tried and wanted to take a step back, to turn away from creating, but I always come back to it after a while."