[ad_1]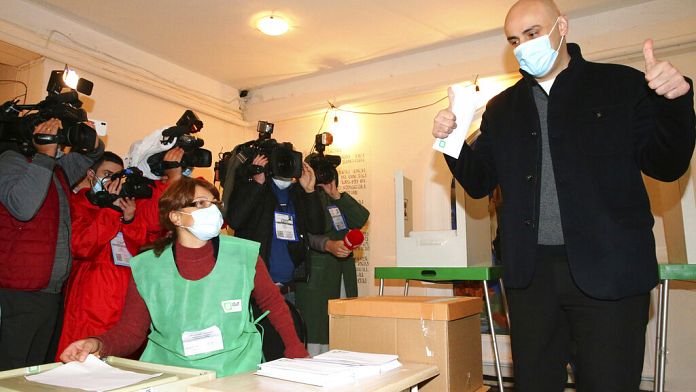 Georgians were voting Saturday in local elections crucial to power, a day after former President Mikheil Saakashvili, a leading opposition figure, was arrested on his return from exile.
The arrest raised the stakes in the election, seen as a test for the increasingly unpopular ruling Georgian Dream party.
"I want to ask all of you to go and vote so that not a single vote is lost"Saakashvili tweeted Saturday from his prison by posting a photograph of a letter to his supporters. "My freedom, and more importantly, the freedom of Georgia depends entirely on your actions and fighting ability".
Mikheil Saakashvili, a charismatic reformer who has been both adored and criticized, is the 53-year-old founder of the main opposition United National Movement (UNM) and served as president of Georgia from 2004 to 2013.
On Friday before his arrest, he had asked in a video the supporters of the UNM to mobilize in view of the elections on Saturday. He had called them to gather on Sunday on a major thoroughfare in Tbilisi.
Mr. Saakashvili had announced on Friday morning that he was returning to his homeland, which he had left in 2013, from Ukraine.
The government had warned him that he would be immediately arrested if he returned, being wanted for "abuse of power", a case he considers political and for which he was sentenced in absentia to six years in prison in 2018.
His arrest was announced on Friday evening by Prime Minister Irakli Garibashvili. According to Georgian media, he is being held in a prison in Rustavi, near the capital Tbilisi.
Georgia has been plunged into a political crisis since last year after the opposition denounced massive fraud in the legislative elections, narrowly won by the ruling party.
In a country in the Caucasus accustomed to political instability, municipal elections are being closely watched for any signs of a retreat in the democracy of the Georgian Dream.
In power since 2012, the Georgian Dream founded by Bidzina Ivanishvili, Georgia's richest man, has been accused by critics of using criminal prosecution to silence opponents and journalists. Interpol rejected Tbilisi's requests to issue a red notice against Mr. Saakashvili.
[ad_2]

Source link