[ad_1]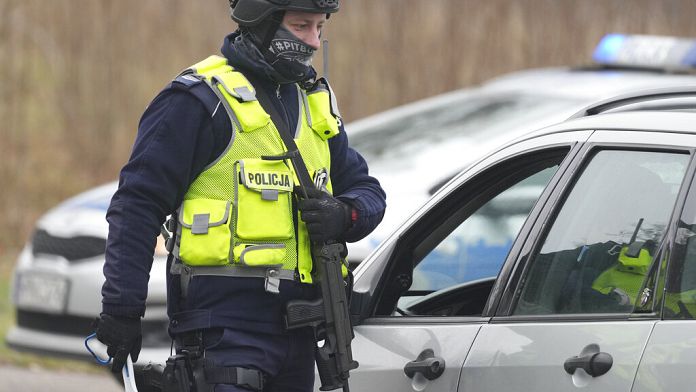 This is one of the many arrests not far from the border with Belarus … Polish police inspect vehicles looking for exiles who have managed to slip through the cracks of the 20,000 Polish soldiers deployed along border with Belarus for less than a month. That day, they discovered and arrested a dozen migrants in several cars registered in Germany.
According to the Polish authorities, 500 suspected smugglers have been arrested in Poland since last August:
"Those who hire to transport these people are usually citizens of Ukraine and Georgia who legally reside here. [en Pologne]. There are also people who have German resident cards, mainly Iraqis and Syrians. Unfortunately, we also see more and more often the involvement of Polish and foreign criminal groups here ", explains Andrzej Jakubaszek, border guard.
Some migrants express their willingness to stay in Poland, while others try to go further west. An Iraqi, who crossed the border from Belarus, and who wishes to remain anonymous, hopes to reach Germany:
"I have my family in Germany. I didn't want that, I didn't decide to suffer, to undergo this nightmare. But it was a danger to my life to stay in Iraq."
Some exiles give all their money to traffickers, and often find themselves trapped, others try to make the trip alone, still others organize their trip with the help of their families already living in the countries of the European Union.
Witold Klaus, a lawyer who has worked with migrants, explains the risks it can pose to bring someone illegally into the EU:
"It is quite heavily punished, up to 8 years imprisonment, because it aims to punish criminal groups of organized smugglers. But there are also certainly families who are looking for their relatives who are lost in the forest."
The number of border crossings between Poland and Belarus continues to decline, but activists helping migrants on the Polish side say many exiles are still hiding in Polish forests and many families are looking for their missing relatives in eastern European Union.
"According to the Polish government, construction of its planned fence along the Belarusian border will begin soon. With more than 20,000 agents deployed in the region and international aid from Estonia and the UK, Poland hopes to seal completely the border and prevent migrants from crossing it " concludes our reporter in Warsaw, Magdalena Chodownik. "
[ad_2]

Source link