News
Migrants: tensions at the Belarus-Poland border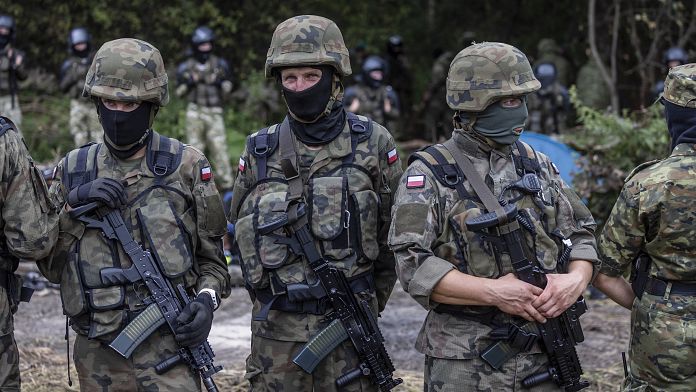 The situation is tense at the border between Poland and Belarus that hundreds of migrants from the Middle East daily try to cross illegally to seek asylum in the European Union. Warsaw will increase to 10,000 the number of its soldiers deployed to help border guards prevent migrants from crossing its border from Belarus, Polish Defense Minister Mariusz Blaszczak announced Monday.
"We are increasing the number of soldiers by 2,500 to help the border guard corps. Soon, about 10,000 soldiers will watch over the security of the border, servicemen of the 12th, 16th and 18th divisions. The Territorial Defence Forces continue to operate and assist the inhabitants of the border area." said on Twitter the minister.
This announcement follows a series of incidents along this border. On Sunday, sixty migrants tried to tear down a barbed wire fence recently erected by Poland, throwing projectiles at security forces.
"Two soldiers of the Polish army were hospitalized," reports Anna Michalska, a spokeswoman for the Polish border guards. "One of them was hit with a stone, the other with a branch but their lives are not threatened, they have already left the hospital. A few members of the border guards suffered minor injuries, but they did not need to be hospitalized. The migrants were very aggressive but they did not cross the border. These attempts have been stopped".
Migrant deaths at the border
Thousands of migrants, mostly from the Middle East, have crossed or attempted to cross the border from Belarus since the summer. Half a dozen migrants have died trying to cross these EU external borders.
The European Union accuses the President of Belarus, Alexander Lukashenko, of bringing Middle Eastern and African nationals to Minsk and then crossing the borders of Lithuania, Latvia and Poland in retaliation for EU economic sanctions on his regime.
Warsaw, which is considering the construction of a wall, has imposed a state of emergency in the area where migrants are caught between Belarusian border guards and Polish law enforcement who return them, according to NGOs.
Source link