News
MEPs say yes to Kiev joining the European Union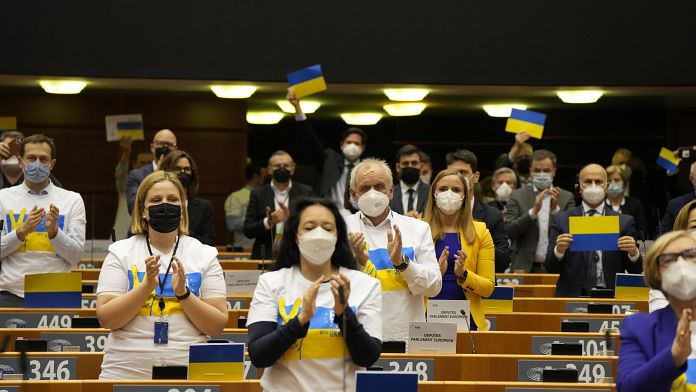 Members of the European Parliament draped in the colors of Ukraine. The European Parliament has shown its support for Kiev. While the Ukrainian president is under the fire of bombs, Volodymyr Zelensky spoke on Tuesday in front of the hemicycle to ask for help and the EU solidarity.
"Can you imagine that two cruise missiles struck Freedom Square (in Kharkiv) this morning (Tuesday) causing dozens of victims. It's the price of freedom", underlines the Ukrainian leader.
Volodymyr Zelensky also recalled his wish to see his country join the EU. "We have proven our strength. So prove that you are with us, then life will prevail over death and light over darkness", he added.
The appeal was heard in Parliament within hours. MEPs adopted a non-binding resolution asking the EU to grant Kyiv the candidate status. They also call on Russia to end the war and urge the Union to strengthen its humanitarian aid.
"I think there are times when you have to have the courage to take big steps forward and if you look at the previous enlargements it was always a political decision linked to security and freedom", explains MEP Sophie in't Veld (Renew Europe).
The resolution still asks sending defensive weapons additional, but on this point some parliamentarians have reservations. "It could lead to an escalation of war, it could become an international conflict and it could become a full-scale war or one of the biggest conflicts in Europe", tempers Martin Schirdewan (GUE).
Demonstrators had gathered in front of the European Parliament to question the political leaders. A little further on the blue and yellow of the Ukrainian flag floated alongside the blue and yellow of the European flag.