News
McDonald's temporarily closes its 850 establishments in Russia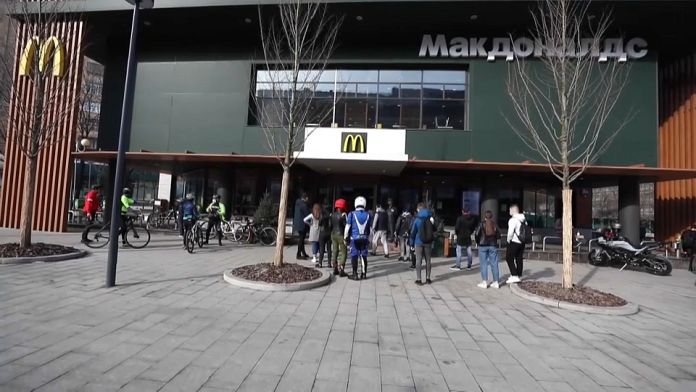 McDonald's, Coca-Cola, Starbucks and a few other American multinationals blamed for being slow to cut ties with Russia finally gave in to public pressure and suspended their operations in the country, in reaction to the invasion of Ukraine by the Russian army.
Several of these companies, symbols of American culture in the world, had been doing for a few days the subject of a boycott call on social networkswhile investors began to ask questions.
McDonald's decided on Tuesday March 8 to temporarily close its 850 restaurants in Russia.
"The situation is extraordinarily difficult for a global brand like ours and there are many considerations to take into account.", underlined the boss of the fast-food chain, Chris Kempczinski.
The group counts in the country 62,000 employees, that he will continue to pay, and multiple suppliers. Russia represents 9% of its turnover and 3% of its operating profit.
"At the same time, respecting our values ​​means that we cannot ignore the unnecessary human suffering taking place in Ukraine.", added Chris Kempczinsky.
Mc Donald's follows suit
Starbucks, which until now has argued that its 130 cafes in Russia were managed under franchise by a Kuwaiti group, finally indicated on Tuesday March 8 that the latter had agreed to temporarily close the establishments bearing its name.
And Coca Cola will suspend its operations in the country. Its competitor PepsiCopresent in Russia for more than 60 years, has chosen to stop selling its soft drinks but to continue to supply foods deemed essential, such as baby powder.
His boss Ramon Laguarta also highlighted the importance of continuing to support its 20,000 employees in the country.
Yum! Brandsincluding some 1,000 restaurants KFC and 50 establishments pizza hut in Russia are almost all managed by independent owners, announced on Monday evening the cessation of its investments in the country.
On Tuesday, the group added that the activity of the KFC restaurants it manages in its own hands was suspended. As for the Pizza Hut franchises, they should be too, Yum! Brands in a statement. The group said that profits from activities in Russia would be redirected to humanitarian actions.
Hesitations…
In total, more than 290 large companies with a significant presence in Russia have announced their withdrawal, according to an inventory kept up to date by a team from Yale University.
Around 30 multinationals still remain on the list of companies with significant exposure to Russia.
Some groups may have legitimate reasons to stay, note several ethics and communication experts interviewed by AFP, citing in the first place employee safety.
Some companies may be hesitant because they think they can play an intermediary role between the parties or because they manufacture essential products such as pharmaceutical ingredients in the country. Tim Fort, professor of business ethics at Indiana University.
However, he adds,it's probably a good time to choose a side and it doesn't seem very difficult to me to do so".
The decision of one company "not going to tip the scales, but there is an accumulation effect", advance Tim Strong. And a company as well known as McDonald's can have a real influence in Russia at a time when the population has almost no access except to the official discourse, which minimizes the scale of the conflict.
"Russians will be able to survive without Big Macs, but they will mostly wonder why McDonald's is closing, wonder what's really going on", says the expert.
Responding to War with Economic Sanctions
For Richard Painter, professor at the University of Minnesotacompanies must think about the message to convey, namely that "Russia cannot start a war in Ukraine while participating in the global economy".
With the economic sanctions imposed by Western governments, "it is the best way to deal with Russia rather than to confront it militarily", he asserts.
For Mark Hass, a communications specialist at Arizona State University, the economic interests of companies that have so far chosen not to leave Russia "arguably still outweigh the risks to their reputation". Some groups may be betting that the criticism will rain down in the short term, before falling.
But, says Mark Hass, "if social media starts identifying you as the company willing to do business with an autocratic abuser who is killing thousands in Ukraine, then the problem escalates and can affect your business far beyond Russia".