Soccer
Mbappé, a big news falls before OM!
Will Kylian Mbappé finally agree to continue the adventure under the shirt of PSG? Free on June 30, the forward tricolore is announced to Real Madrid as part of a free transfer. But the capital club has not yet said its last word in this matter.
Advanced discussions between the Mbappé clan and PSG
Interviewed by Le Parisien newspaper, Fayza Lamari, the mother of Kylian Mbappé, had very clearly opened the way for an extension of his son in the shirt of Paris Saint-Germain. "We are currently talking with PSG and it is going well. I even had Leonardo last night (this Monday). Then will we come to a way out? One thing is certain: he will give it all to the end to win the C1" declared last October 6 the mother of the number 7 of the Red and Blue.
And according to information leaked Friday by The Transfer Window Podcast, negotiations are continuing between the Mbappé clan and Parisian leaders about a renewal. The British media explains that PSG will continue to insist that it does not intend to part with Mbappé and intends to prove to him that he represents the future of the club by signing him a new lease. Only the 22-year-old will be free to negotiate with the club of his choice from next January 1, and courtiers flock every day. PSG too is preparing to go on the offensive for its striker.
PSG's offensive for Mbappé already scheduled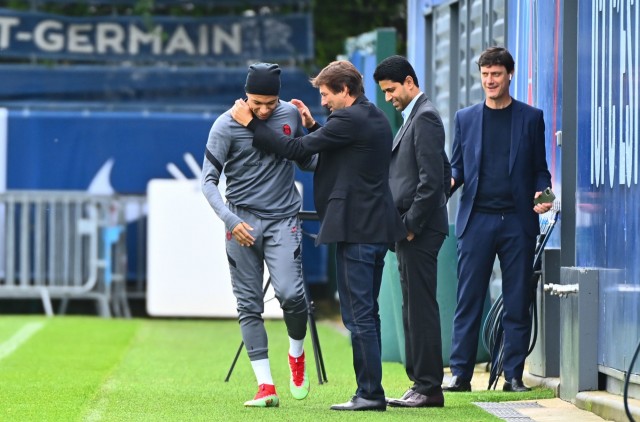 Indeed, to believe Duncan Castles, during his passage on the set of the Transfer Window Podcast, since the arrival of Lionel Messi, the direction of the Paris Saint-Germain has not yet made an extension offer for Kylian Mbappé. The Times and Daily Star journalist explains that Nasser Al-Khelaifi and Leonardo planned to wait just before the winter transfer window to return to the Mbappé clan. PSG refuses to make an offer now and wait to know that of Real Madrid. While the 2018 world champion will be able to negotiate with the club of his choice from January 1, it is this same month that Paris Saint-Germain is waiting to launch its offensive.
Case to follow therefore…