News
Mariupol: first group of civilians evacuated from Azovstal steelworks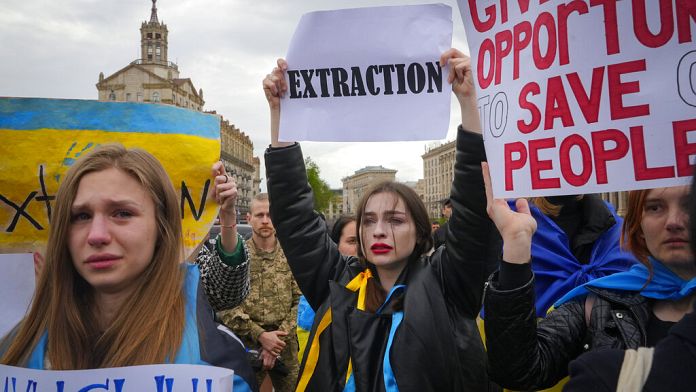 A first group of civilians was extracted overnight from Saturday to Sunday from the steelworks Azovstalthe last pocket of Ukrainian resistance in Mariupolin the east ofUkraineregion where the Russian army concentrates most of its forces.
An expected first
The exit of twenty civilians from the underground of this huge industrial complex represents a great first, all previous evacuation attempts having failed, in this port city in the south-east almost completely destroyed after weeks of siege.
The Azov regiment, which defends this industrial zone, spoke of "twenty civilians, women and children". "They have been transferred to an agreed place and we hope that they will be evacuated to Zaporizhia, in the territory controlled by Ukraine"said Sviatoslav Palamardeputy commander of the regiment in a video on Telegram.
A few hours earlier, the official Russian agency Tass had announced that a group of 25 civilians, including six children, had been able to leave Azovstal, where they are buried according to Kyiv (kyiv in Russian) hundreds of Ukrainian military and civilians in underground galleries dating back to Soviet times.
"The Azov regiment continues to clear the rubble to get civilians out. We hope that this process will continue and that we will succeed in evacuating all civilians"also advanced Sviatoslav Palamar.
Ukrainian President Volodymyr Zelensky referred to it in his Saturday night video address saying: "We are doing everything to ensure that the Mariupol evacuation mission is carried out".
According to new satellite images from Maxar Technologies taken on April 29, almost all buildings in Azovstal have been destroyed.
The Secretary General of the United Nations, Antonio Guterresvisiting Kyiv Thursday, assured his side that the organization was doing "everything possible" to evacuate civilians trapped in "the apocalypse" of Mariupol, which had half a million people before the Russian invasion launched at the end of February.
The total capture of this city would allow Moscow to connect the territories conquered in the south, in particular the Crimean peninsula annexed in 2014, to the pro-Russian separatist republics of Donetsk and Luganskto the East.