Soccer
Marco Verratti responds cash to Guardiola's interest
After PSG's last win against Manchester City in the Champions League, Pep Guardiola had very complimentary words against Marco Verratti. The Parisian midfielder was asked about the exit of the coach of the Citizens towards him.
Marco Verratti flattered to attract Guardiola's eyes
"I'm in love with him. He's exceptional. Even under pressure, he manages to find those passes that allow the middle to be free. He is not a player for long passes but you can always rely on him to build the game. In the premiere, he was really exceptional. »
After the XXL performance of Marco Verratti against Manchester City, on the occasion of the second day of the group stages of the Champions League, Pep Guardiola could not help but declare his flame to the Paris Saint-Germain midfielder. Words spoken by the one who is considered the best coach on the planet and who logically pleases the Italian international of PSG. By the way, the Parisian number 6 did not shy away from his pleasure, as he explained to France Info.
"These are certainly words that make me happy. He is a person who understands football, who is good at football and one of those who give us pleasure with football. So, yes, I'm happy", rejoiced the partner of Lionel Messi, Kylian Mbappé and Neymar. However, if the English press assures that behind the words he pronounced against the protégé of Mauricio Pochettino, the coach of the Citizens would actually like to convince him to join him in the Premier League. Marco Verratti wanted to make a great precision on his future.
Transfer window PSG : Marco Verratti vows loyalty to Paris SG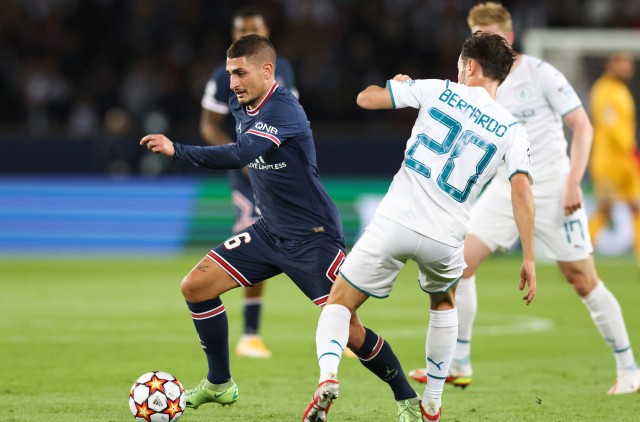 Arrived incognito in 2012 when he had just brought up Pescara in Serie A, Marco Verratti quickly proved his talent to the point of settling in Paris as an untouchable holder. The Little Owl radiates in the capital by its serenity in its ball exits and its technical qualities. Regularly hampered by physical glitches, Marco Verratti is the real master to play PSG, a club he loves and that he does not intend to leave anytime soon.
"I was a little boy who came from a small Italian provincial town and here I got everything. My children were born here! When you're a little over 18, those are your best years. And I lived them here. It was amazing", said the child of Pescara. Before adding: "I became a man and found love. So everything I've experienced here will leave me with incredible memories. "Continuing, the 2021 European champion confirmed his willingness to remain at the Paris Saint-Germain until the end of his career. "I have some time left. What I know is that I will always stay here," Verratti said, leaving no chance for his many courtiers including Manchester City.