News
Madagascar: Cyclone Batsirai has lost power, the risk of flooding persists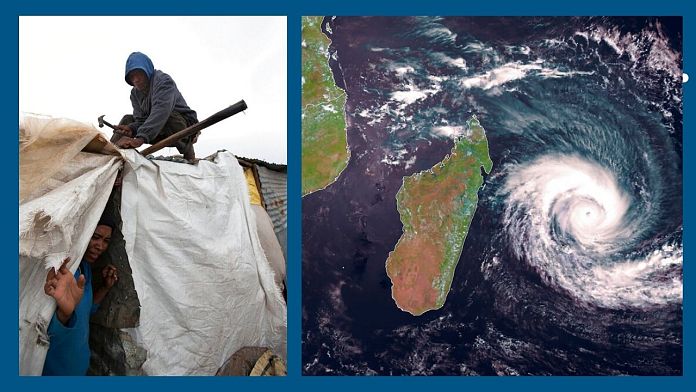 Tropical cyclone Batsirai, which hit Madagascar on Saturday evening, lost power overnight. But floods are still to be feared due to heavy rains.
Tropical cyclone Batsirai seems to have lost intensity this Sunday.
"Batsirai has weakened. At 4 a.m. local time (01 a.m. GMT), its center is positioned in the Isandra district (center). The average wind is down to 80 km/h with local gusts of 110 km/h. It is moving west at 19 km/h", specify the Malagasy meteorological services.
According to Météo-Madagascar, "localized or widespread flooding/flooding remains to be feared following heavy rains"but Batsirai should"go out to sea in the Mozambique Channel near the northern part of Atsimo Andrefana in the afternoon or next night".
After pouring torrential rain for two days on the French island of Reunion, Batsirai made landfall around 8 p.m. (1700 GMT) on Saturday in the Mananjary district, more than 530 km southeast of the capital Antananarivo.
Batsirai made landfall "14 km north of the city of Mananjary, at the stage of an intense tropical cyclone", with "a wind of 165 km / h and gusts at 235 km / h", Faly confirmed to AFP. Aritiana Fabien, an official of the National Office for Risk and Disaster Management.
Some 90 minutes after the arrival of the cyclone, the authorities had counted nearly 27,000 people who had left their homes, said Mr. Fabien, whose services prepared food, medicine and accommodation sites.
A little earlier, the weather service of Madagascar had warned that "extensive and widespread damage"were to be feared.
The director of the World Food Program (WFP) for Madagascar, Pasqualina Di Sirio, said that she anticipates "a major crisis"on the Big Island, where the cyclone could affect more than 600,000 people, including 150,000 displaced."We are very nervous", she said by videoconference to the press.
Search and rescue teams have been placed on alert, stocks of supplies have been prepared and planes are ready to intervene in support of the humanitarian response.
Around 4.4 million people in total are at risk in one way or another, according to the International Federation of Red Cross and Red Crescent Societies (IFRC), including ""on-site" teams and partners are on alert and deployed within communities".
Every year during the hurricane season (from November to April), about ten storms or cyclones cross the south-west of the Indian Ocean, from east to west.