News
Macron "asks forgiveness" to the harkis on behalf of France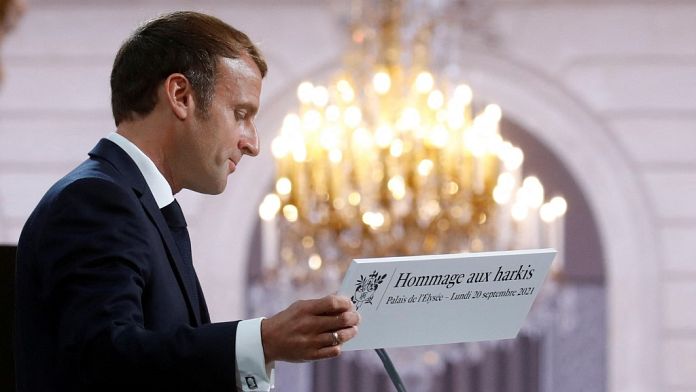 Emmanuel Macron on Monday" asked for forgiveness " on behalf of France to the harkis, Muslim auxiliaries who fought alongside the French army during the Algerian War, and promised a "reparation"law.
Government "will carry before the end of the year a project aimed at enshrining in the marble of our laws the recognition and reparation for the harkis", announced the French president during a tribute ceremony at the Elysee.
"You carry in your flesh the memory of the harkis. The honor of the harkis must be engraved in the national memory", explained the Head of State by calling for"dressing wounds"who must be "closed by words of truth, gestures of memory and acts of justice".
The President of the Republic has "asked for forgiveness"in the name of France to the harkis, believing that the country had "failed in his duties"towards them.
"To the fighters, I want to say our gratitude; we will not forget. I ask for forgiveness, we will not forget", he said. France "failed in his duties to the harkis, their wives, their children", judged the Head of State.
The harkis are veterans – up to 200,000 men-recruited as auxiliaries of the French army during the conflict between Algerian nationalists and France from 1954 to 1962.
At the end of this war, some of them, abandoned by Paris, were victims of reprisals in Algeria.
Several tens of thousands of others, often accompanied by women and children, were transferred to France, where they were placed in"transit and reclassification camps"unworthy and permanently traumatic living conditions.
The harkis and their descendants would today form a community of several hundred thousand people in France.
They experienced a difficult integration in France, both assimilated to immigrants and rejected by immigrants.
In 2000, Algerian President Abdelaziz Bouteflika described them as"collaborator"and, while criticizing their housing conditions in France, had ruled out their return to Algeria, which he said was "not their country".
Source link