Soccer
Leonardo negotiates with the Erling Haaland clan !
Despite a contract running until June 2024, Erling Haaland is expected to leave Borussia Dortmund next summer. While Kylian Mbappé is playing his last year of commitment, PSG have made the Norwegian striker his priority target to replace him. And Leonardo began negotiations in this direction.
Leonardo started chatting with Haaland's agent
In an interview with the Spanish daily AS, the former general manager of Bayern Munich, Karl-Heinz Rummenigge, openly confirmed thatErling Haaland has a release clause for next summer. "I know Aki (Watzke) and I know he is a man of his word. He said he wouldn't be sold, and that's what happened. However, it will be very difficult to keep it after 2022, because I understand that there is a release clause on that date. He has not stopped scoring and the clubs are already lining up to convince him and his agent ", explained the former Bavarian leader.
Arriving in January 2020, Haaland could leave the Ruhr club next summer. According to several concurring sources, the release clause is fixed between 75 and 100 million euros. Figures that do not scare the Paris Saint-Germain since according to the 90min site, Leonardo began negotiations with the agent of the 21-year-old, Mino Raiola. Not necessarily ruling out a departure, the former scorer of RB Salzburg does not, however, intend to join any team by leaving Dortmund.
Haaland sets a condition for his future !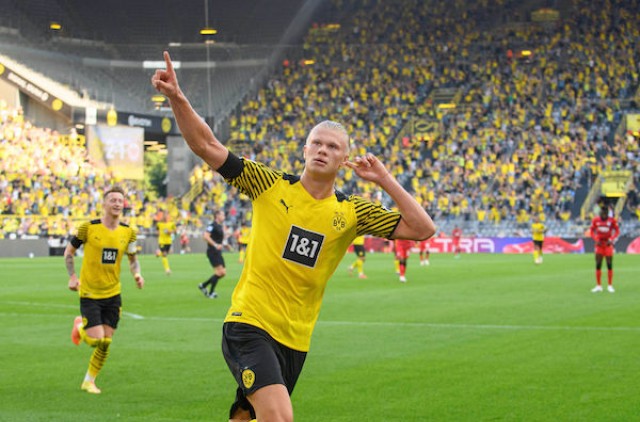 Indeed, according to the information collected by CBS Sports, Erling Haaland favors the sports project regarding the choice of his future club. With a very attractive summer transfer window, Leonardo has strong arguments to convince the Golden Boy to eventually replace Kylian Mbappé alongside Lionel Messi and Neymar. As a reminder, Real Madrid, FC Barcelona, Manchester United, Chelsea, Bayern Munich and Manchester United are also in the ranks for the Leeds native.
According to some sources, Haaland has even already given his agreement to Florentino Pérez to join Real Madrid next summer. But according to Marca, Kylian Mbappé has already warned the Madrid management that he does not intend to play in the same team as the number 9 of Borussia Dortmund. Madrid could therefore have to decide between the two future Ballons d'Or, which would leave an interesting margin of maneuver for Leonardo and the Paris SG.