News
Legislative in Hungary: will the war in Ukraine penalize Viktor Orbán?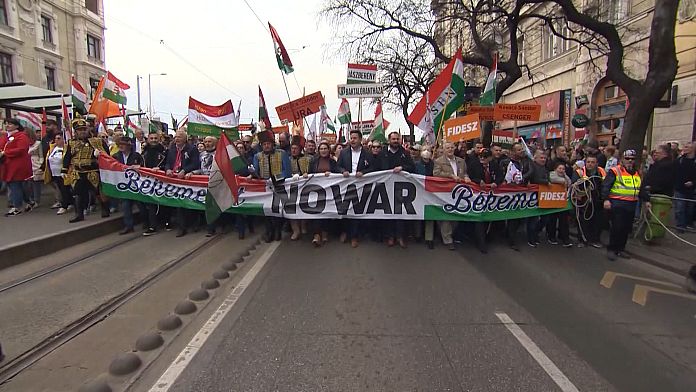 The outbreak of the Russian invasion in Ukraine on February 24 turned political life upside down across Europe and in particular in Hungary as the legislative elections approached. After less than two weeks of official campaigning, the war made the electoral issues lose their relevance and forced the Hungarian parties to position themselves.
For Fidesz in power, Hungary must at all costs stay out of the conflict."We have nothing to gain in this war, but on the contrary, everything to lose," affirmed Viktor Orbán, outgoing Prime Minister."We must stay out of this war, no Hungarian must be caught between the Ukrainian anvil and the Russian hammer," he added.
The ambivalent posture of the Hungarian Prime Minister
To do this, the Prime Minister voted in favor of European Union sanctions and condemned Russian aggression in Ukraine, but avoided personally criticizing Vladimir Putin and refused to allow arms deliveries to Ukraine to pass through Hungary.
This ambivalent posture has been criticized, including by Polish leaders considered to be its allies.
During a discussion by videoconference with the leaders of the Twenty-seven on March 24, Volodymyr Zelensky also urged Viktor Orbán to take a firmer position, calling on him to remember the victims of the Holocaust in Budapest. "As for Hungary, I want to be honest," he asserted. "You have to decide once and for all which side you are on as a sovereign state," he insisted.
According to the opposition, Viktor Orbán is not fit to lead the country
The Hungarian Opposition for its part, organized several demonstrations against Russian aggression. During the speeches, Viktor Orbán was presented as Vladimir Putin's closest ally in the European Union. Which would make him unfit to lead the country.
In response, posters quickly appeared on the streets of Budapest claiming that the current government was the only one who could guarantee the country's security.
Fidesz also targeted the opposition claiming that it wanted to lead Hungary to war after the candidate for the post of Prime Minister supported by six parties Peter Marki-Zay indicated during this campaign that he would fulfill the country's obligations as a member of NATO, including by sending troops.
"Hungary has already taken part in similar missions in Afghanistan, the Middle East and Africa," he remarked. "Viktor Orbán himself has offered NATO to participate in different missions abroad, it cannot be ruled out that such a thing will happen at some point, as far as Ukraine is concerned," he asserted.
Elections as a "battleground"
The combative tone remains a constant in the communication of the Hungarian Prime Minister in recent years. Although he adopted a pacifist discourse on the war, the bellicose rhetoric remains when he speaks of the Hungarian opposition.
"We will fight them on April 3," he launched during a meeting. "Let's win the most important battle of our lives! Let's give them what they deserve and defend Hungary," he hammered.
The big question is how divided Viktor Orbán's camp is on this war led by Russia, with which he has built an alliance for ten years… and how many votes it will cost him during these legislative.