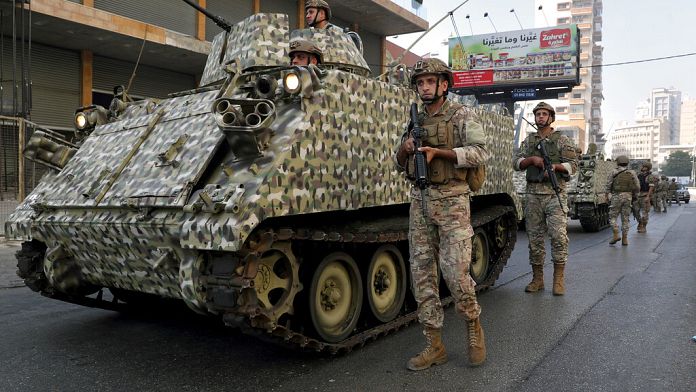 Scenes of panic and chaos erupted this Thursday in Beirut turned into a real war zone after a protest against the judge in charge of the investigation into the devastating August 2020″s explosion.
Six dead, thirty injured
Army tanks were deployed, as heavy gunfire and explosions rang out in the Lebanese capital.
Hezbollah and its Shiite ally Amal, organizers of the demonstration, have accused snipers posted on the roofs of buildings of firing on protesters, but the exact reasons for the blaze remain unclear.
The violence left at least six people dead and about thirty injured. Lebanese Prime Minister Nagib Mikati called for a return to calm and warned against attempts to drag Lebanon into a cycle of violence. France, also called for "appeasement".
Demonstration of Hezbollah and its Shiite ally
Earlier, supporters of the Shiite movement Hezbollah and Amal had gathered in front of the Courthouse. Target of their anger: Judge Tareq Bitar who seeks to determine the responsibility for the explosion of the port of Beirut. His investigation includes two former ministers of the Amal movement.
The case nearly imploded on Tuesday in a heated meeting of Nagib Mikati's government, formed in September after a nearly year-long political deadlock, with Hezbollah and Amal ministers calling for the judge to be replaced, which other cabinet members opposed.
August 4, 2020: The explosion in the port of Beirut
On August 4, 2020, the port of Beirut was the scene of a powerful explosion caused by the storage of huge quantities of ammonium nitrate, without precautionary measures. Death toll: at least 214 dead, more than 6,500 injured and neighborhoods devastated.
Accused of criminal negligence, the authorities refuse any international investigation and are accused by the victims' families and NGOs of torpedoing the local investigation.