News
Lack of allies, Russia gives up on a vote on Ukraine in the UN Security Council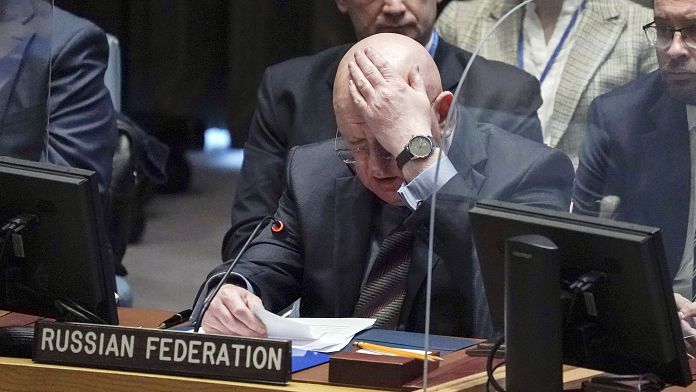 Accusations against Moscow of committing war crimes in Ukraine mounted on Thursday as civilian casualties increased in bloody attacks by the Russian military.
And Moscow seems increasingly isolated. Russia has given up holding a vote in the UN Security Council on Friday on a resolution related to the war in Ukraine, for lack of support from its closest allies, diplomats told AFP on Thursday.
A "cynical" text
The text, initiated by Moscow, condemned "attacks on civilians" and called for their protection to guarantee their departure from Ukrainian cities. "A cynical game" reacted the British ambassador to the UN Barbara Woodward.
"They asked for co-sponsorship" for their text, which they said focused on humanitarian work, "and there was no return," said an ambassador on condition of anonymity, suggesting that neither China nor India did not support the controversial Russian initiative and would not have voted in favor of it.
"We have decided not to ask for a vote" on this resolution on Friday, the Russian ambassador to the UN, Vassily Nebenzia, told the Security Council, without looking at his counterparts, his eye riveted on his text. .
Biden must talk to Xi Jinping
Setting the scene a few hours before an exchange between Joe Biden and Xi Jinping, the United States said Thursday that China would expose itself to reprisals if it were to "support Russian aggression" against Ukraine.
"We are concerned that they plan to directly assist Russia with military equipment that would be used in Ukraine. President Biden will speak to President Xi tomorrow, and make it clear to him that China will bear responsibility for any act aimed at supporting Russian aggression, and that we will not hesitate to impose costs on it.", said Thursday the head of the American diplomacy Antony Blinken.
Since the beginning of the Russian invasion on February 24, the Chinese communist regime, prioritizing its relationship with Moscow and sharing with Russia a deep hostility towards the United States, has refrained from calling on Russian President Vladimir Putin to withdraw his troops from Ukraine.
But the "boundless friendship" professed by Beijing and Moscow is being tested by the war in Ukraine, with President Xi Jinping's regime appearing to have been taken aback by Ukrainian resistance to the Russian offensive and the strength of sanctions Western.
Beyond the question of possible military assistance to Russia, Washington does not want China to help Moscow mitigate the impact of these unprecedentedly harsh sanctions, which are supposed to strangle the Vladimir regime financially and economically. Putin. Beijing, for its part, seems unwilling to undermine its relations with the West, and tries to maintain a certain neutrality on the conflict in Ukraine.