News
Kyiv bombed in full visit of the UN chief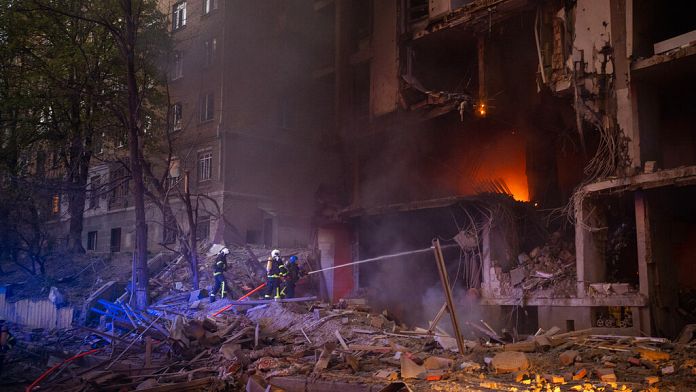 Kyiv was bombarded on Thursday during the visit of United Nations Secretary General Antonio Guterres to the Ukrainian capital. Missiles hit two buildings, including a residential building. According to the emergency services, ten people were injured.
The Ukrainian president evokes a "hateful barbarian attack"carried out by five missiles. In a video posted on Telegram, Volodymyr Zelensky believes that "This says a lot about the Russian leadership's efforts to humiliate the UN and all it stands for".
Antonio Guterres was brought to safety after the bombings; he had just finished his joint press conference with Mr. Zelensky. He relativized the symbolic significance of his presence in the city: "I don't think it matters whether or not the general secretary is in the Ukrainian capital. What matters is that an attack took place and that shocked me because Kyiv is a sacred city for both Ukrainians and Russians." he explained.
Just before the bombing, Antonio Guterres acknowledged the failure of the United Nations Security Council to prevent and end the war. He also returned to the situation in Mariupol, which he described as "crisis in crisis" and explained that the UN was doing everything possible to successfully evacuate the thousand civilians who had taken refuge in the besieged Azovstal steelworks.
Massive American military aid
US President Joe Biden has asked Congress for an additional 31 billion euros for Ukraine. More than half will be devoted to military aid, the rest being divided between economic aid and humanitarian aid.
This considerable amount reflects Washington's desire to support Kyiv, at all costs: "The cost of this fight will not be small but yielding to aggression will be more costly if allowed to unfold.", justifies Joe Biden.
At the beginning of March, Congress had already voted around ten billion euros in aid to Ukraine.