Soccer
Kombouaré welcomes good news before Reims !
FC Nantes travels to the pitch of the Stade de Reims this Sunday on the occasion of the eighth matchday of Ligue 1. Before this meeting, Antoine Kombouaré, the coach of the Canaries, welcomed a good news that has just fallen for the rest of the season.
FC Nantes: La Brigade Loire announces its return
Almost two months after the start of the 2021-2022 season, the powerful group of supporters of FC Nantes, the Ultras of The Brigade, will return to the stands to support the team ofAntoine Kombouaré. And this good news will know its starting point this Sunday against the Stade de Reims. In a statement published on its website, the Ultras group announced its return to the stands.
"We have seen, both in La Beaujoire and in the other stadiums of the championship : that no barrier gesture is applied in the popular stands (despite, sometimes, prefectural announcements). That except exception, no gauge, in any case abnormally low, is put in place to limit the flows of support. That the control of the "sanitary pass" is not accompanied by a systematic control of identities, in particular, as regards the groups of active supporters ", indicates the powerful group.
As a result, the Ultras of the Loire Brigade hope "that the same management" will be applied to them despite the conflict that has opposed them with the Waldemar Kita and the management of the club for several years. An announcement welcomed at its fair value by Antoine Kombouaré.
Kombouaré is happy with the return of the Loire Brigade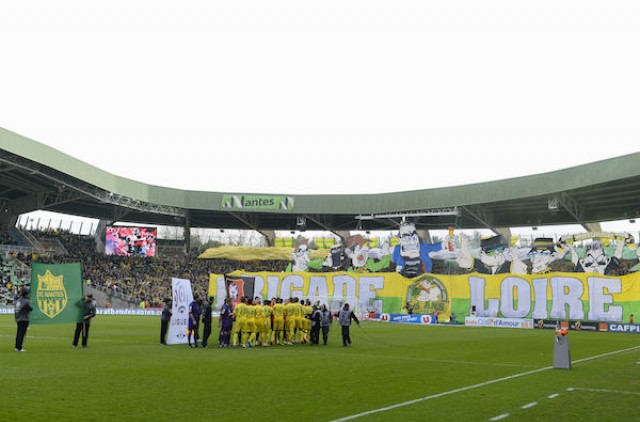 In the pre-match press conference, the coach of FC Nantes was asked about the return to the stands of the Loire Brigade after several months of absence. And the least we can say is that Antoine Kombouaré is happy with this return which will boost his men during the next jousting. Even if the Kanak technician recalls that he does not necessarily agree with the state of mind of some members of this group.
"If they come to support us, it's fantastic. I told them when you come, the grievances you have against management, it's before and after matches, not during. Especially when we're in trouble. That's what I expect from them. But their return is great news, " said Kombouaré.