Soccer
Kombouaré seriously fears Clermont Foot
Held in check by the Girondins in Bordeaux (1-1), the FC Nantes will try to return to victory against Clermont Foot 63, Saturday (17h). Antoine Kombouaré is not serene against the promoted who gives a hard time to his opponents.
FC Nantes: Kombouaré, "Clermont still as effective and solid"
FC Nantes had signed a beautiful victory over ES Troyes AC (2-0), before being hung by the Girondins of Bordeaux, on the following day of Ligue 1. To revive his team in search of points to climb up the standings, Antoine Kombouaré don't look up at Clermont Foot 63 at all. On the contrary, he is wary of the promoted side who had inflicted a defeat (2-1) in a friendly match during the summer preparation. "The Clermont Foot team has evolved anyway. It was a team that played a lot on possession and the ability to develop their offensive game. Now she has understood that you have to defend well, be strong and counter well. But it is still as effective, solid", stressed the coach of the FCN.
FCN coach talks about "a formidable team"
The Canaries are 9th and Clermontois 14th, but only one point separates the two opponents of the 11th in the championship. Antoine Kombouaré's team would therefore be doubled in the event of defeat. "This match may even be more complicated than the one played against Troyes. Because Clermont is a promoted that plays without complex, with a game in place, possession. This training practices a beautiful football and it is effective "He warned. The Kanak technician is full of praise the team coached by Pascal Gastien. "This is a team that has that ability to play either home or away and they can annoy a lot of teams. They are a formidable team",did it ignite.
Canaries coach instructions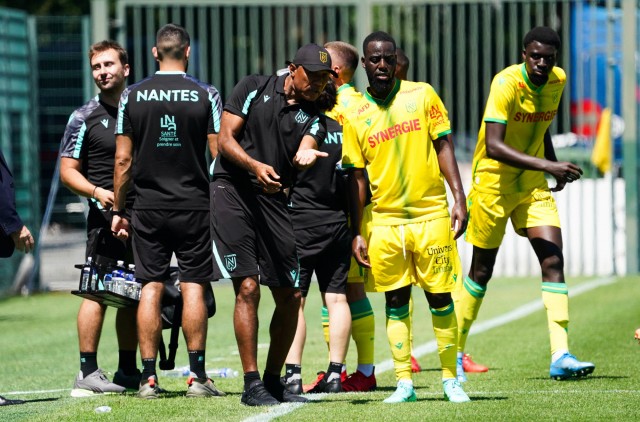 However, Antoine Kombouaré asked FC Nantes players to do the job at the Beaujoire Stadium. But how to achieve it? "We need to be more solid defensively. We have to improve our ability to play better, to bring the ball in the last thirty meters and work on our finishing, also in the last pass. It is not necessary to rush. It will be up to us to defend well to cause them problems because they also take goals. I just hope we can win on Saturday," he said.