News
Khartoum, ghost town | Euronews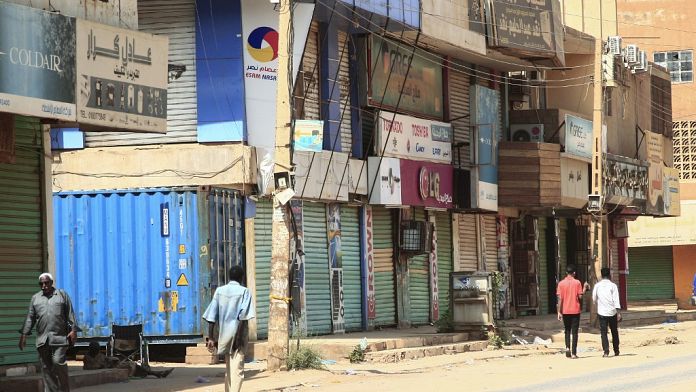 After another night of clashes with security forces, protesters hostile to Sudan"s military coup continued their operation dead City in Khartoum, amid growing international pressure for a return of civilian power.
On Monday, General Abdel Fattah al-Burhane, now alone in command of this impoverished East African country plunged into political doldrums and plagued by conflict, dissolved the government supposed to ensure the transition to democracy and arrested ministers and senior civilian officials.
This coup led to daily protests mainly in the capital Khartoum, which were marred by violence that at least seven protesters have been killed since Monday according to forensics.
With barricades of branches, burned tires and stones, protesters blocked several avenues of the capital in the midst of "civil disobedience". "We totally support the general strike, we do not want military power, we want a free democratic life", a protester told AFP.
Resistance
In Khartoum, only a few bakeries are open, where families flock. Like the last four days, the iron curtains of shops, banks and restaurants remained down.
"Security forces are trying to dismantle all barricades by firing tear gas and rubber bullets"another protester explains. "But we reinstall them as soon as they leave".
On Thursday, however, few ventured into the streets for fear of being arrested.
On social networks, accessible in rare places in a country where the authorities have cut off the internet, activists have shared images of nocturnal manifestations claiming "civil power".
Most civil society organizations, trade unions and associations dissolved by General Burhane, called for a massive mobilization on Saturday against the coup. They want "one million protesters" to claim that the General Burhane, military commander during the three decades of undivided power of General Omar al-Bashir, joins the latter in the maximum security prison of Kober in Khartoum.
In 1989, Omar al-Bashir seized power in a coup against democratically elected Prime Minister Sadeq al-Mahdi. Before being sidelined by the army in April 2019 under the pressure of a popular revolt. Monday is Abdallah Hamdok, head of the transitional government established in August 2019, which was overthrown by General Burhane. He is at home in Khartoum but is not "not free of his movements" according to the UN.
Appeal of 33 diplomats
His foreign Minister Mariam al-Sadek al-Mahdi, the own daughter of the Prime minister overthrown by Bashir and one of the few civilian officials who is not in detention, praised the 33 diplomats who signed a joint communiqué condemning the putsch, published on social media.
General Burhane dismissed six protesting ambassadors, including those from China, the European Union, France and the United States.
Increasing the pressure on the army, the'**African Union suspended Sudanand the World Bank has stopped its aid**. The US has also suspended some aid and the EU has threatened to follow suit.
"We do not want Sudan to return to the dark days of its history", tweeted the head of European diplomacy Josep Borrell.
The protesters say they have learned their lesson. At the end of 2018 and in 2019, they camped for months until forcing the army to remove Mr. Bashir, at the cost of a crackdown that left more than 250 people dead.
Source link