News
Katalin Novak, close to Viktor Orbán, becomes the first woman president of Hungary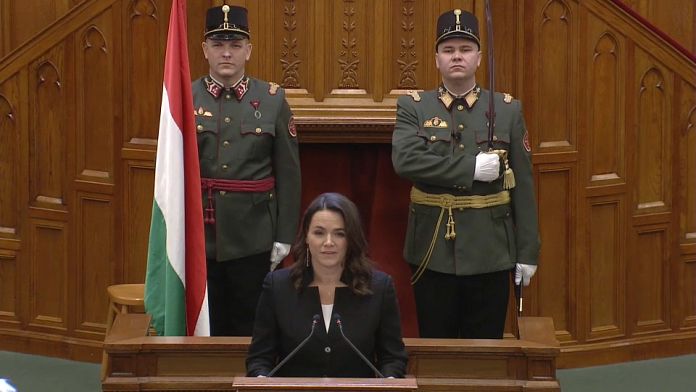 Katalin Novak became Thursday the first woman president of Hungary, a central European country governed for twelve years by the sovereignist Viktor Orbán of which this faithful was minister of family policy.
The 44-year-old former minister won 137 votes in Parliament against 51 for his opposition rival, economist Peter Rona.
centerpiece of device by Viktor Orbán aiming to defend an ultra-traditional vision of the family, Katalin Novak brandished her values ​​in a speech before the vote: "We women raise children, take care of the sick, cook, we have to split ourselves, earn a living, teach, win Nobel Prizes. We know the power of words but can shut up and listen when needed, and stand up for our families with greater courage than men if danger lurks.", said the one who is the youngest to take this function.
The official had arrived at Parliament all smiles with her husband and three children, a presence "which means a lot", according to a message posted on social networks.
Francophile
Originally from the city of Szeged, in the South of Hungary, graduated in economics and law, passed by Sciences-Po Paris before training at the ENA (the former National School of Administration in France), Novak speaks fluently French and was made a Chevalier of the Legion of Honor in 2019.
Last fall she was in the front row during the visits to Budapest of Eric Zemmour and Marine Le Penthe two far-right candidates for the French presidential election.
Forbes magazine featured her as the most influential woman in public life in Hungary in its new classification.
Entering as a simple civil servant at the Ministry of Foreign Affairs in 2001, Katalin Novak then raised her three children in Germany, where her husband worked, before come back when Viktor Orban won in 2010.
Legislative
His appointment to this essentially ceremonial post comes with less than a month of legislative elections which promise to be tight for Fidesz, the right-wing party of Viktor Orbán. The six opposition parties, united in an unprecedented alliance, hope to overthrow the leader regularly criticized by the European Commission for the attacks made since 2010 on the rule of law.
Their leader Peter Marki-Zay deemed Katalin Novak "unsuitable" for the post of president because of her closeness to Mr. Orban.
She will succeed May 10 to Janos Ader, 62, who had held the presidency since 2012.
Appointed Secretary of State for Family and Youth in 2014, she obtains his minister's stripes in 2020 in a government with only three women.
Of protestant denominationit had generated in 2020 the controversial stating in a video that women don't need "constantly compete"men in life and"earn as much".
Katalin Novak has been on a mission to halt the country's demographic decline, saying Hungary doesn't want "neither immigration nor population replacement".
At the head of her ministry, she set up pro-natalist policies who, by straightening the curve of births, have not fundamentally reversed the trend.
Unwavering support from Viktor Orban, Katalin Novak staunchly defended the law prohibiting talking to people under 18 "sex change and homosexuality", which sparked an outcry in Brussels.
"In the West, LGBT+ propaganda targets kindergartens and schools", she said in an interview, arguing that homosexuals should not raise children.
Faced with criticism concerning her loyalty, she rebels. "Now that a woman becomes president, she is treated like a puppet. What if not contempt?", she lets go.