News
Kaja Kallas, Estonian Prime Minister: "Gas is expensive, but freedom is priceless"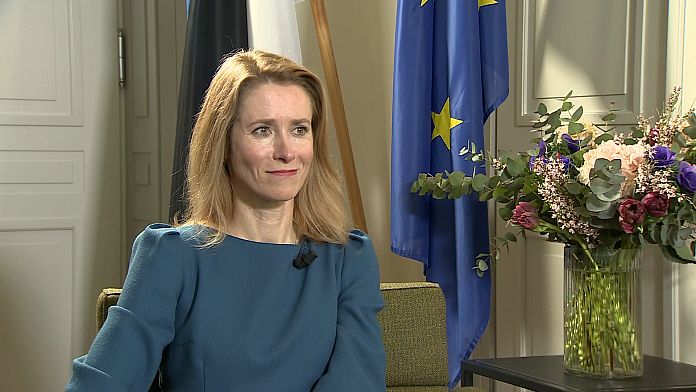 On the sidelines of the European summit in Versailles, Estonian Prime Minister Kaja Kallas gives us her point of view as the Russian offensive in Ukraine continues. While she says she is not afraid of an attack against her country or against NATO, of which Estonia is a member, she stresses that the Alliance is preparing and that European countries "are doing everything to end the war." She calls on the EU to give Ukraine, "a tangible prospect of joining our European family" believing that "Ukrainians are literally fighting for the EU". It also warns European citizens that "difficult times await them."
Efi Koutsokosta:
"You are among the leaders who are strongly calling for a greater military presence on your borders. Are you afraid that your country will be the next target if Vladimir Putin succeeds in his intervention in Ukraine?"
Kaja KallasEstonian Prime Minister:
"The right question is rather: 'Will NATO be the next target if Vladimir Putin succeeds in Ukraine?' We are members of NATO and we have article 5 which says that an attack against one of us is like attacking all of us. Which means that if we are attacked, the United States, France or Germany are also attacked. I think it would be disproportionate to do so, even for Russia. So we are not afraid, but we are preparing. We have so far, within NATO, the posture of deterrence. But now we have to move on to defense plan to be effectively ready to defend ourselves when or if necessary."
What risk of overflow?
Efi Koutsokosta:
"But is the risk of the conflict in Ukraine spilling over into European countries real?"
Kaja Kallas:
"Obviously we are trying to help the Ukrainians with every means at our disposal so that they can protect themselves and defend their own country. And our goal is to stop this war and do everything we can to stop it. end and that it does not spread. Of course, no one can know what will happen in the future and what will ultimately be a good or a bad decision. But what we are trying to do is is to end this war in Ukraine and of course to ensure that there is no overflow."
Efi Koutsokosta:
"You told the European Parliament that the European Union has a moral duty to welcome Ukraine into the Union. But why ? How would applying for membership help this country in the midst of a war?
Kaja Kallas:
"I said that we have to give Ukraine a European perspective. We have to give it hope. Ukrainians are literally fighting for the European Union. So we should give them a tangible perspective. to join our European family. This is something we are going to discuss. Of course, joining does not happen overnight. There are stages to go through. We have been there, so we know the procedure very well from our experience. But I think the European Union will benefit from Ukraine being more prosperous, more stable and more respectful of the rule of law."
False promises made to Ukraine?
Efi Koutsokosta:
"But not all of your colleagues are so eager to see such an enlargement at the moment. Shouldn't that be said clearly to the Ukrainians rather than making them false promises?"
Kaja Kallas:
"We shouldn't make false promises to Ukrainians, that's for sure, but rather send them a clear message and give them tangible progress in this process to give them hope because hope also gives strength. So I think it's our moral duty to give them hope. It's the least we can do."
Efi Koutsokosta:
"During this crisis, we see the EU taking unprecedented sanctions against Russia and getting closer to its allies, but what additional measures can it afford to take? What is currently under discussion? "
Kaja Kallas:
"It is true that the European Union has been very united and very quick to act and to put the sanctions in place. Certainly it has not been a particularly agile organization so far. So I think it has been a surprise for Vladimir Putin and for the whole world. We have also surprised ourselves by being so strong and so quick in this regard. We are already on the fourth package of measures, in addition to the sanctions already in place since 2014. So, of course, we are still exploring other avenues to put more pressure on Vladimir Putin's war machine and to deprive this war machine of capital so that he cannot continue this war. Sanctions are already causing harm, but we need to exercise strategic patience for them to be applied and have their full effect."
What price for Europeans?
Efi Koutsokosta:
"What price do Europeans have to pay for all this?"
Kaja Kallas:
"You can find that gas is expensive, but freedom is priceless. You know, I come from a country where there was no freedom. I was born in the Soviet Union, so I know very well what that means. It is often said that you understand the value of freedom when it is taken away from you. So that's why it's very difficult to explain this to people who have never experienced this. Sure, it will be hard and we must be honest with our fellow citizens and tell them that hard times lie ahead. So far, I think our discussions within the European Union have focused on targeting Vladimir Putin's war machine and about not hurting people too much because we also need their support to make our decisions. And if the sanctions are for them, something they can't tolerate, then it's hard to maintain them."
Internal tensions in Estonia
Efi Koutsokosta:
"Finally, has this conflict triggered tensions within your country since it has a Russian-speaking minority who have been complaining for years about not being treated on an equal footing?"
Kaja Kallas:
"These claims have not been so strong recently. We have about 300,000 Russian speakers, but they are not a homogeneous group. The majority of them are Estonian citizens and they feel connected to Estonia. Currently, because of the war, as we also have a Ukrainian minority, we see tensions between these groups and we have to be careful what we say: it is the war of Vladimir Putin and the Kremlin and not that of the Russian speakers. cannot equate Vladimir Putin and the Russians, we have to separate them."