Soccer
Juninho struggling with Nantes for a Turkish crack
Just like FC Nantes, Juninho, the sporting director of OL, would be ready to launch an offensive as soon as the next winter transfer window for a Turkish winger playing at Galatasaray. In the past, this player was associated with Olympique de Marseille.
Transfer Window OL : Kerem Aktürkoğlu in Ligue 1 in January?
In a difficult economic situation at the moment, Galatasaray should let go of some of its most courted elements during the January transfer window. A scenario that could do the trick of several clubs, including Olympique Lyonnais and FC Nantes, in France. Indeed, according to the information delivered by journal Fanatik, Kerem Aktürkoğlu is in Juninho's sights and FC Nantes.
A Turkish international, the 22-year-old striker could thus leave the local championship during the upcoming winter recruitment period. Arrived in the summer of 2020 in Galatasaray after a remarkable season at 24 Erzincanspor (17 goals in 28 games in the 3rd division), the right-hander is a sensation. In search of an additional striker, Olympique Lyonnais could even make an offer of 6 million euros in January. With the injury of Moussa Dembele, the Lyon managers want to strengthen their offensive sector with a hard-hitting and creative player, matching the profile of Kerem Aktürkoğlu.
Still according to the same source, the Canaries, who also want to allow Antoine Kombouaré to have an additional option in front, would also have planned to formulate the same proposal as OL for the young Turk. The sports media even specifies that FC Nantes is particularly hot in this issue. However, Galatasaray wants to sell their player with a very specific plan.
The Galatasaray strategy for Kerem Aktürkoğlu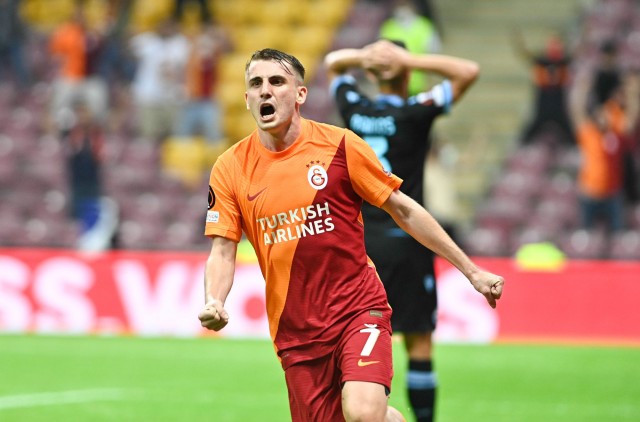 Always according to Fanatik, the initial plan of the Galatasaray management was to sell Aktürkoglu in one or two years to draw a check of between 20 or 25 million euros, but can ultimately be tempted by a much smaller envelope. Especially if the applicant club agrees to include a large percentage to resale and bonuses in the upcoming deal.
Better, the Stambouliote club would even have entered into negotiations with the entourage of the native of Kocaeli with a view to an extension of his contract that expires in June 2024. The residents of the Telekom Arena want to raise his salary by 87,000 euros annually, as soon as the locker room, in order to include a release clause of 15 million euros in his new lease. It'Olympique Lyonnais and FC Nantes are therefore warned.