News
Joe Biden says he is "convinced" that Vladimir Putin has decided to invade Ukraine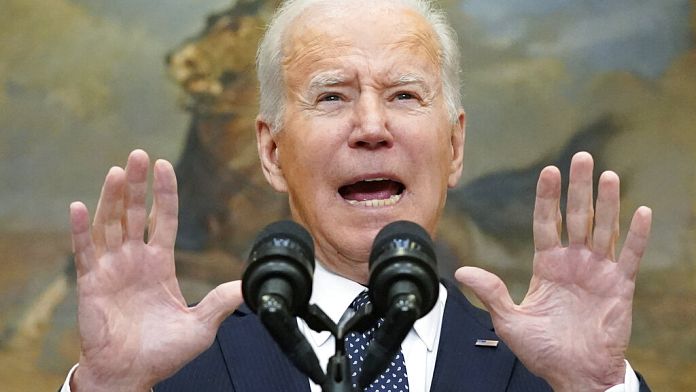 Russian President Vladimir Putin attends Saturday large-scale military maneuvers and missile tests, at the risk of further inflaming the situation as thehe United States is convinced that Russia has decided to invade Ukraine imminently and that incidents on the front line accumulate.
Fears of a Russian attack are heightened amid growing ceasefire violations between pro-Russian separatists and Ukrainian forces who have been fighting since 2014 in eastern Ukraine, in a conflict that has already left more than 14,000 dead.
Observers from the Organization for Security and Cooperation in Europe (OSCE) reported on Saturday a "dramatic increaseof these violations. According to them, the number of armed incidents on the front line is now the same as before July 2020, when an agreement was reached to strengthen the ceasefire.
The Russian state agency Ria Novosti reported on Friday two explosions, including that of an oil pipeline, in Lugansk, a city in eastern Ukraine held by separatists. And the authorities of the pro-Russian secessionist territories have ordered the evacuation of civilians to Russia.
The Kremlin continues to deny any intention to attack its neighbor, but demands guarantees for Russia's security, such as the withdrawal of NATO from Eastern Europe, which the West refuses.
US President Joe Biden said "convinced" Friday that Vladimir Putin had decided to invade Ukraine, and that the multiplication of clashes aimed to create a "false justification"to launch the offensive in the week or even the days to come.
But he left the door open to dialogue. Until an invasion has occurred, "diplomacy is always a possibility", he estimated, announcing a meeting between his Secretary of State Antony Blinken and the Russian Minister of Foreign Affairs Sergei Lavrov next Thursday.
Ukrainian President Volodymyr Zelensky is due to meet Western leaders in Munich on Saturday, including US Vice President Kamala Harris.
"Destabilization campaign"
Washington estimates that Russia has 190,000 troops on the outskirts of Ukraine and on its territory, including separatist forces. This is "largest concentration of military troops"since the Cold War, said NATO Secretary General Jens Stoltenberg, judging that Moscow was "able, without further warning, to attack".
The Pentagon claimed on Friday that between 40% and 50% of these Russian troops are "in attack position", and that the clashes on the front line are part of a "Ukrainian destabilization campaign"preliminary to an invasion.
US Defense Secretary Lloyd Austin also told ABC that Russia had gathered the elements "necessary for a successful invasion".
"I don't think it's a bluff", did he declare.
Russia has never divulged the number of its soldiers massed on the borders of Ukraine or participating in maneuvers in neighboring Belarus.
The Russian Ministry of Defense announced that Vladimir Putin would personally supervise military maneuvers on Saturday, including the firing of ballistic and cruise missiles capable of carrying nuclear charges.
These exercises will mobilize forces from the Southern Military District, the Aerospace Forces, the Northern and Black Sea Fleets as well as the "strategic forcesThe latter are equipped with intercontinental range missiles, strategic bombers, submarines, surface ships and naval aviation carrying conventional missiles.
Kremlin spokesman Dmitry Peskov assured that it is a "regular training process".
The West unanimously promised Moscow devastating economic sanctions in the event of an invasion of Ukraine. They would make Russia a "pariah", hammered again on Friday an American official.
But Vladimir Putin again brushed off the threat: "Sanctions will be introduced no matter what. Whether there is a reason or not, they will find one because their goal is to hinder the development of Russia".
All day Friday, belligerents in eastern Ukraine accused each other of violating a truce and using heavy weapons. Bombings were still heard in Stanitsa Luganska, a city under Ukrainian control, according to AFP journalists. She had already been targeted Thursday by shots which notably hit a nursery school.
The speaker of the lower house of the Russian parliament, Vyacheslav Volodin, assured that Russia will "defend" the "Russian citizens"who live in the separatist territories in Ukraine if their lives were"threatened".
"If war begins, Europe will become the theater of hostilities", he warned.